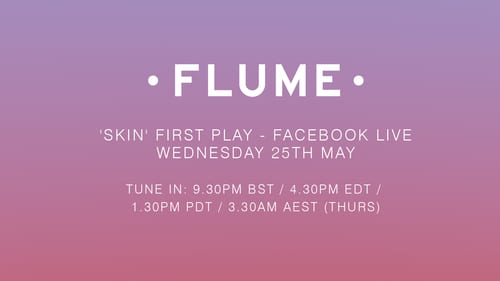 Flume – 'Skin' First Play via Facebook Live from London
Harley Streten – aka Flume – will be appearing at a secret London location alongside friends and team members on Wednesday to celebrate this Friday's global release of his majorly anticipated, second LP 'Skin'.
The live streamed event will feature a full play-through of the 16-track record alongside interviews and appearances from special guests.
The stream starts at 21.30 local London time (17.30 EDT / 13.30 PDT / 03.30 AEST) and will be the official first place to listen to producer Streten's new album.
There will also be the opportunity for fans to share reactions and pose questions to Harley about the making of the record.
'Skin' is released Friday 27th May via Transgressive / Mom & Pop / Future Classic
www.flumemusic.com
www.facebook.com/flumemusic
www.soundcloud.com/flume
www.twitter.com/flumemusic
www.transgressiverecords.com