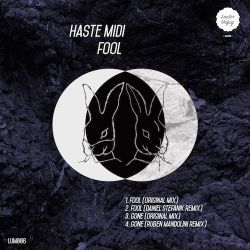 Haste Midi - Fool EP (Ft. Daniel Stefanik & Ruben Madolini Mixes)
'Fool EP' marks the debut release for upcoming Analogue loving production duo Haste Midi on Luxembourg's freshest imprint, Lauter Unfug. 'Fool' is built on a roaring 808 kick, balanced by warm pads and teased with a beautiful vocal sample (Midways '84 classic 'Set It Out') that shines in contrast to the whizzing hi-hats and Techy, minimalistic bass grooves. Detroit's Daniel Stefanik delivers a deeper, dubbier remix with a click – groove that dances with his pulsating bassline. 'Gone' is aimed straight at the dance floor and comes loaded with raw 909 drums, driving percussive and vocal loops, giving a pure 90's flavour and armed with a melancholic trumpet on the breakdown. Italy's Ruben Madolini turns on his unique Tuscan Tech charm, creating a deep, brooding groove primed for the small hours.
One of the most exciting labels to be spawned from the House scene of Luxembourg last year are the sublimely cool dance label, Lauter Unfug. Pierre Bellion, Alex Heide and Thierry Loesch, known for their acclaimed club night of the same name, take the next step in growing their exciting brand. A great choice of fine figureheads from today's scene have graced Lauter Unfug's parties since it's inception in 2013, including Karotte b2b Gregor Tresher, Coyu b2b Ramiro Lopez, Kink, Dave Clarke, Mathias Kaden, Marek Hemmann, Matador, Gaiser and Claptone, along with bunch of hot headliners planned for 2016.
Track Listing
1 Haste Midi – Fool (Original Mix)
2 Haste Midi – Fool (Daniel Stefanik Remix)
3 Haste Midi – Gone (Original Mix)
4 Haste Midi – Gone (Ruben Mandolini Remix)
'Fool EP' will be released on February 29th 2016 on Lauter Unfug.