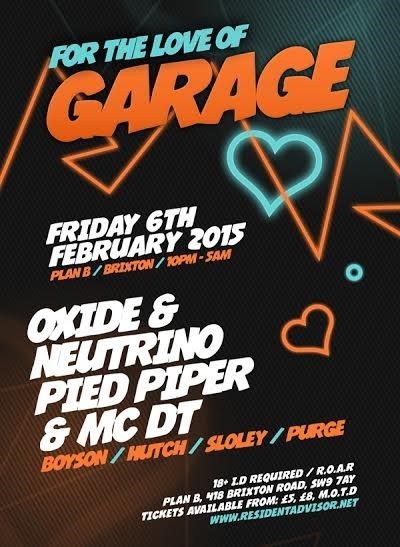 For the Love of Garage
After a spectacular NYE event, For the Love of Garage is proud to announce that we will be heading to Plan B, on Friday February 6th, for another night of the finest garage around.
Headlining, we have Oxide & Neutrino, who's debut single "Bound 4 Da Reload" shot to No.1 in the UK Charts. Also the creators of classics such as "No Good 4 Me", "Rap Dis" and "Devil's Nightmare", Oxide & Neutrino have truly cemented themselves as UKG legends. Following on, we have the mighty Pied Piper & MC DT. Responsible for the certified gold single "Do You Really Like It?", these two have been going strong for over a decade, still regularly appearing on DJ EZ's weekly KISS 100 show. With support from For the Love of Garage residents, this looks set to be another unmissable night.
Line Up
OXIDE & NEUTRINO
PIED PIPER & MC DT
BOYSON
HUTCH
SLOLEY
PURGE