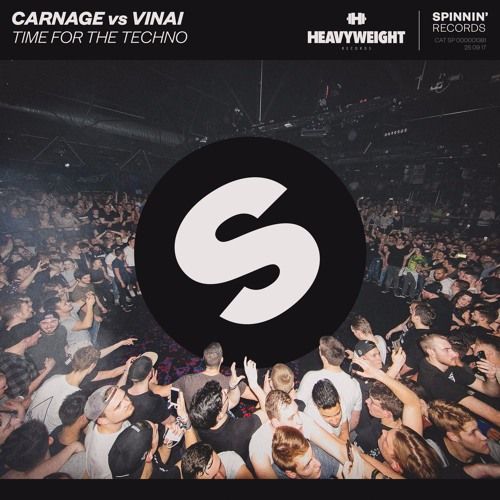 Carnage vs VINAI
Time - For The Techno
Sometimes a collaboration comes around that catches you off-guard in the best way possible. Two of the hottest acts about, Carnage and VINAI know exactly how to make a lasting impression – and their new single Time For The Techno is no different.
An instantly recognisable name in the game, US-based DJ and producer Carnage found his recipe to success very early on in his career. Starting out by building upon his hip-hop roots, Carnage swiftly moved on to become a strong presence in the trap and electronic scene, working closely with the likes of Theophilius London and ASAP Rocky, before dropping his ground-breaking remix of Hardwell's Spaceman to huge appeal. With his forward-thinking sound and fiery stage presence, Carnage continues to push boundaries with each musical release and beyond.
Hailing from Italy, brothers and production partners VINAI have carved a long-lasting name for themselves with their progressive, catchy house grooves – or, as they call it, 'big room bounce'. Having worked with The Chainsmokers, Steve Aoki, David Guetta and Dimitri Vegas & Like Mike to name a few, VINAI are the protagonists in a new wave of Italian wave of big room house, already boasting hundreds of millions of views and various Beatport #1's.
Fusing an array of sounds and overstepping the genre boundaries like only they can, Carnage and VINAI work their unique magic on Time For The Techno in seemingly effortless style. With its massive beats, blazing drops and catchy synth leads, this track will have each corner of the club firmly on its feet.
Carnage & VINAI's Time For The Techno is OUT NOW via Spinnin' Records.
BUY LINK:
https://exit.sc/?url=http%3A%2F%2Frelease.spinninrecords.com%2Ftime-for-the-techno!SSC
SOCIAL MEDIA:
https://soundcloud.com/djcarnageofficial
https://www.facebook.com/djcarnageofficial/
https://twitter.com/djcarnage
https://www.instagram.com/djcarnage/
https://www.papigordo.com/
https://soundcloud.com/wearevinai
https://www.facebook.com/vinai.official
https://twitter.com/Vinai
https://www.instagram.com/vinaiofficial/
https://www.wearevinai.com/