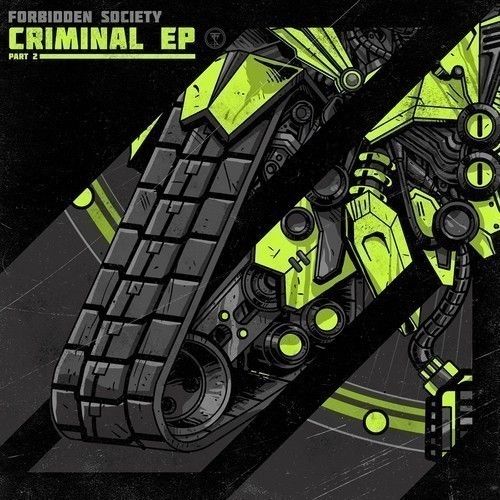 Forbidden Society – Criminal EP Pt 2
The build up to Forbidden Society's third album, 'Thronecrusher', continues with unabated bass badness as the Czech Republic's premier sound designer lays down four more brutal future-shocking tear-ups, teaming up with Coppa and Task Horizon along the way.
First up are two massive collaborative bombs with one of the UK's most exciting MC talents. In a move that few MCs could live up to, Coppa's command matches the sick beats pound for pound. Instantly distinctive, sharp-tongued and loaded with lyrical wit, he's the perfect fit for Forbidden Society's alarmingly crisp beats. Covering two different sides of the dance, 'Clap Back' is an aggressively grimy halftempo charge with a cool electro drop midway, while 'Shots' takes us heads-down into distorted rolling bliss. Both are as heavy as they are unique.
Further on we hit more collabo paydirt as FS hooks up with Task Horizon. Swaggering dangerously on a woozy triplet, this one is all about the titanium drums and savagely clipped synth stabs. Pushing you face first into a bed of stainless steel sounds, the collective creativity bombard you with rhythmic punches and sonic slaps right through the bitter end.
Ending us on a truly epic note are fellow Czech residents Counterstrike. Taking Forbidden Society's 2010 Fallout Recordings appearance and bringing it bang up to date, Counterstrike maintain the synapse-snapping bass hook and drive of 'Can't Be Soft' while adding a whole new layer of aggy energy. Complete with a floor-melting build-up and a secondary drop that's so powerful it could melt concrete, remixes really don't get much bigger than this.
Hell, samplers don't get much more exciting than this! Start counting down the months… 'Thronecrusher' will land this September. And it would be criminal not to check it.
As a special bonus, Forbidden society has also produced two breaks mixes of the track 'Clap Back' under his Pornothrasher alias which he is giving away for free download, the first of which is here: