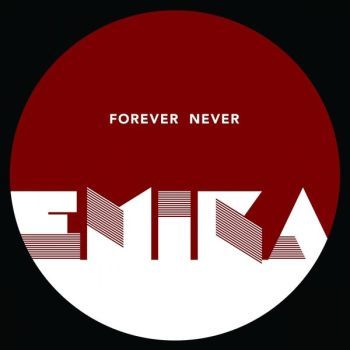 EMIKA - Forever Never
Emika follows up the acclaimed Melancholia Euphoria EP with another 12" of forward-thinking electro/techno magic.
Resplendent in its simplicity, Forever is the sound of Emika boiled down to her steely essence. Gated vocal snippets and haunting synth arpeggios give a nod to early-'90s proto-trance, the arps filtering in and out of focus in tense fashion before unfolding into a dreamy melodic progression. Swathes of scintillating pads heighten the atmosphere further, the synths swelling and quelling in unpredictable fashion to create a seriously dramatic ride. The pads take centre stage in the outro with muted piano chords audible somewhere far in the distance–both providing a subtle allusion to her recent orchestral work on her ambitious symphony project.
Never treads similar ground but takes a more direct approach, the tension building consistently in layers as more arpeggiated synths gently modulate in hypnotic fashion. The shimmering, icy sounds create a haunting, slow-burning atmosphere before the rhythm switches up for the latter half of the track, layers of gated white noise further punctuating the groove. Emika deftly utilises each element for maximum effect, allowing each to breathe and shine by way of slick production and clever arrangement.
Out on Aug 5th via her own imprint, it's set to be another highly sought-after release from this prolific artist, showing that she is as adept at extracting the maximum from a few choice parts as she is as composing for a 70-piece orchestra.
http://emikarecords.com/
http://dj.beatport.com/emika
http://emika-official.bandcamp.com
https://www.instagram.com/emika_official/
https://www.facebook.com/emikamusic/?fref=ts