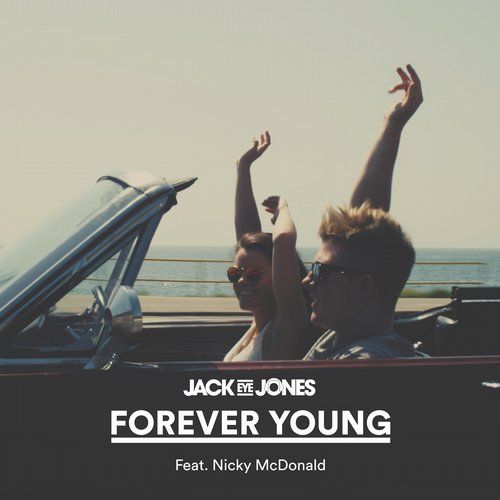 Jack Eyed Jones (feat. Nicky McDonald) - Forever Young
Having already smashed into the UK charts with his debut album Summer Nights, initially breaking through on release day at number three on the iTunes Dance chart before finally settling at 15 on the BBC Dance Album chart the week ending October 16th, it's clear Summer Nights is making quite an impression with music fans around the world. With the album already reaching far and wide the time has come for Jack Eye Jones to unleash some of the individual highlights from this incredible body of work.
Without doubt one of the most hotly anticipated tracks on his brand new LP is Forever Young, featuring the dulcet tones of X Factor finalist and fellow Scot Nicky McDonald. The track although possessing an uplifting lead riff and an outstanding, powerful vocal from McDonald also possesses a deeper message about today's world. Forever Young is about breaking free from the chains of society, it is the story of two special people (a couple, friends or family) breaking the mould and starting a journey together. In the words of Jack Eye Jones himself "in dance music expressing yourself is one of the most important things to do and something we have a duty to do as creatives". Forever Young is a direct reference to the creativity possessed by the world's children, there is no limit to their freedom, their ability to dream and be inspired!
The track marks one of the many exciting collaborations for Jack Eye Jones on his new record, with this one in particular already turning heads. Nicky McDonald has enjoyed a meteoric rise to fame since his incredible X Factor performances in 2013. As a teenager he astounded the judges with his vocal talents and went on to finish runner up to Sam Bailey. The darling of the British public, he achieved the incredible feat of being in the top two contestants on every single occasion during the live shows. In 2014 Nicky released his debut album In The Arms Of An Angel to widespread plaudits via the acclaimed RCA Records.
'Summer Nights as an album brings together a collection of radio friendly crossover smashes incorporating influences from a plethora of sources including classic vocal house and tropical house and is available now via Jack's very own IBZ Records. As well as featuring a host of vocal talents the album also showcases remixes from some of the world's biggest electronic artists including Tiësto, Laidback Luke and Blasterjaxx. All in all, Summer Nights is a poignant debut album from one of dance music's innovative talents.
Info:
• http://www.jackeyejones.com
• https://www.facebook.com/JackEyeJones
• https://soundcloud.com/jackeyejones
• https://twitter.com/jackeyejones
• http://instagram.com/jackeyejones