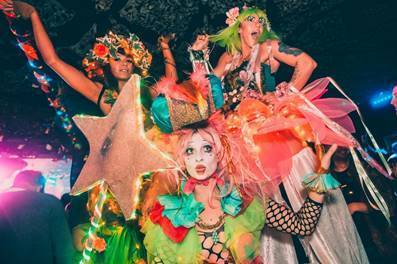 Foreverland reveals new 'Psychedelic Carnival' tour theme at Studio 338
Following on from its sell-out 'Enchanted Forest Rave' tour, the most immersive and escapist party in the UK is back to launch the 'Psychedelic Carnival' in a special preview event at London's Studio 338 on 8th June 2019, featuring Preditah, Artful Dodger, and Foreverland's most outlandish production yet.
Now famous throughout clubland as "the world's most magical club night," Foreverland is building on the huge success of its 'Enchanted Forest Rave' tour with the news that it will return with its most outlandish tour theme yet – Psychedelic Carnival. Guests should prepare for a scintillating explosion of the senses when Foreverland's Psychedelic Carnival officially launches with a huge day and night party at London's acclaimed Studio 338 on 8th June. Headliners include Preditah and Artful Dodger, plus the Foreverland residents providing 10 hours of essential UK garage, bass and drum'n'bass. Alongside outrageous immersive entertainers, walkabout characters, and psychedelic themed carnival décor, it's set to be a party like no other. Tickets start at £12.50 and are available from Monday 25th March. Sign up for pre-release via www.theforeverland.com.
Over the last year, Foreverland's much talked about Enchanted Forest Rave tour attracted 25,000 clubbers across 18 cities (click to view the after movie), including a New Year's Eve sell-out at The Clapham Grand, proving just how hugely popular and successful this unique concept is. The fantastically imaginative team will build on that in the year ahead with more spectacular production and mind-blowing décor than ever before. As such, each event will be a surreal and subversive adventure that takes clubbers deep into the middle of a Psychedelic Carnival that explodes with colour, confetti, CO2 jets and sparks, giant inflatables and props, and fully thematic entertainers that all add to the mesmeric, multi-sensory illusion.
This sure to be spectacular and spellbinding launch event is a taster of what to expect from the 2019 / 2020 tour, the dates of which will be unveiled in July 2019. This preview goes down at Studio 338, a vast venue that offers a perfect canvas for Foreverland to paint up in its own wild style. It boasts indoor and outdoor spaces, AstroTurf gardens, world class sound systems and a huge atrium bathed in natural light. It hosts the best names from the dance music underground on a regular basis and is the perfect place for Foreverland to bring its magical event for the first time.
The on-point soundtrack comes in a headline set from Preditah. The Birmingham producer is responsible for having built some of the heaviest grime tracks in recent times as a member of Boy Better Know, to releasing tasteful soulful garage with the likes of Grammy nominated Jorja Smith on the brilliant single 'On My Mind'. He's guaranteed to bring hype and tempo to the floor at Studio 338 when he makes his much-awaited return to Foreverland.
Foreverland favourites, Artful Dodger, join the bill – a duo rightfully sitting in the garage hall of fame with a catalogue of anthems from their 20-year career. Completing the lineup is the lifeblood of the Foreverland dancefloor, residents Taim, Bassic, and Bitr8, plus host MC Tyrone from garage collective, FooR.
Foreverland's comprehensively realised themes offer clubbers a place to stay young and carefree, a nocturnal adventure like no other. The Psychedelic Carnival will be no different so expect all manner of eye-popping décor and plenty of the tiny little details that make these events so special.
EVENT INFO
Foreverland 'Psychedelic Carnival' Official Launch Party
Saturday 8th June 2019
Studio 338, Boord St, London SE10 0PF
4pm-2am
Tickets from £12.50 / £15 / £17.50 / £20. To purchase and sign up for pre-release tickets, visit www.theforeverland.co
Pre-release: Monday 25th March / general sale: Tuesday 26th March
LINKS
www.theforeverland.com
www.facebook.com/theforeverland
www.instagram.com/theforeverland
www.twitter.com/theforeverland