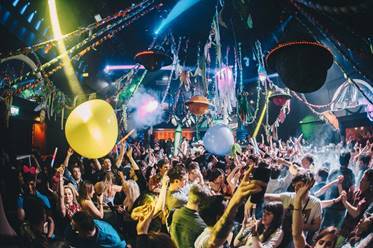 Foreverland To Bring Fireworks & A Midnight Balloon Drop To The Clapham Grand On New Year's Eve
Sparks will fly when the visually stunning club night Foreverland throws its festive New Year's Eve event at The Grand in Clapham on 31st December 2018. As part of its 'Enchanted Forest Rave' Tour, Foreverland will transform the venue with a custom-built stage-set resembling a crumbling, abandoned temple, alongside some special New Year's Eve production. At midnight, The Grand will come to a standstill with a countdown to midnight, 3ft balloons will be unleashed as part of a huge balloon drop, indoor fireworks and confetti cannons will go off as a parade of magical characters celebrate with clubbers across the party. '90s UK garage legends DJ Luck & MC Neat will headline as they fly the flag for the current garage revival. For those wanting a bit of sparkle without the hassle of visiting Embankment, Foreverland is a top choice! Tickets are on sale from £15 + bfand available from www.theforeverland.com/tickets.
Foreverland is well-known for pushing the envelope with its wild taste in production. The 'Enchanted Forest Rave' on New Year's Eve will also see plants and flowers hanging from the ceiling as walkabout characters and mythical beast puppeteers roam the dancefloor. L.E.D and pyrotechnic displays, inflatable creatures and dry ice and confetti cannons will transport crowds into another world, and if that's not enough, face and body painting experts will be on hand to create eye-popping designs throughout the night. Foreverland is one mini-festival environment that since 2015, has grown in popularity with the last tour peaking at 18 cities and 24,000 clubbers.
Londoners DJ Luck & MC Neat are the perfect choice to perform at Foreverland's New Year's Eve event. The MOBO award winning duo have an arsenal of anthems to draw from, including UK Top 10 hits 'With A Little Bit Of Love', 'MasterBlaster' and 'Piano Loco', guaranteeing a lively headline set. They are the scene's original innovators who have continued playing out every weekend at nostalgic throwback parties up and down the country, ever since the late-'90s' golden era. Not only have they paved the way for a new generation of garage DJs and producers, but today remain at the top of their game.
No Foreverland party would be complete without its resident DJs, Taim, Bassic and Bitr8; the unsung heroes of the dancefloor who will get the crowds fired up for Luck & Neat and beyond, with a mixture of all things electronic, bassline, garage, tech house and disco.
This special event will be hosted by MC Tyrone – better known as the hype man fronting the garage collective, FooR. He'll bring his infectious energy and chants to the proceedings and even get stuck in amongst the crowds on the dancefloor; a true talent.
London was the only choice to host Foreverland's New Year's Eve Party: it's the home of UK Garage, DJ Luck and MC Neat, and all things happening when it comes to spectacular New Year's Eve events. Super early bird tickets are on sale from £15 plus booking fee – quick purchase is advised as prices will rise very soon >> www.theforeverland.com/tickets.