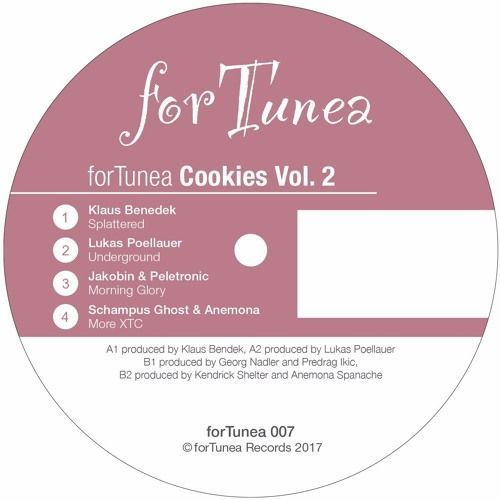 Various Artists - forTunea Cookies Vol. 2
The Viennese forTunea label finishes 2017 with another batch of their tasty sweets, forTunea Cookies Vol. 2. The ingredients on the A-side were masterfully added by chef Klaus Benedek and the newest member of the forTunea baking team, Lukas Poellauer. To start things off, "Splattered" is a typical moody, melancholic sweetener from Klaus Benedek. A chopped hookline, heavy reverbed synths and a vocoder are the signature features in this track. "Underground", from Lukas Poellauer is up next, and utilizing the finest additives money can buy, mixes the batter by fusing tasty bits from both Chicago and UK influences.
The B-side sprinkles in some zesty flavors to keep your palate fresh. Jakobin & Peletronic serve up "Morning Glory" like organic seeds and spices, taking the groove factor of the batch up a notch. Last but not least the Schampus Ghost teams up with Anemona to finish the baking session with "More XTC". What they are adding to the cookies? Well, it certainly isn't sugar. It is for the best that we don't unveil the secret ingredient. Let's just say there are some funky disco vibes within to keep the cookies groovy. All in all, forTunea Cookiesare certainly an enjoyable treat.
Label and Artist Links:
www.fortunea.bandcamp.com/
www.facebook.com/fortunearecords