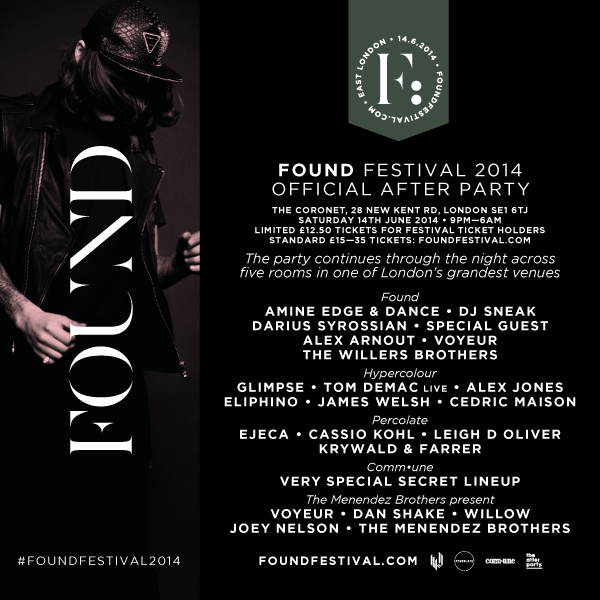 FOUND Festival After Party
FOUND Festival returns with another mammoth After Party for 2014, across five rooms in one of London's grandest venues, The Coronet. Joining forces with Hypercolour, Percolate, Comm•une and The Menendez Brothers to deliver a night of uncompromising party vibes, sets will come from the likes of Amine Edge & DANCE, DJ Sneak, Darius Syrossian, Glimpse, Tom Demac (LIVE), Eliphino, Ejeca, Voyeur, James Walsh and many more…
FOUND will be taking over the main room with an all star line up, headed up by French pioneers Amine Edge & DANCE, who have been smashing their way through the ranks of the house music elite. Since their set at Found's debut festival last year the duo have gone from strength to strength, garnering support from the likes of Radio 1 and selling-out venues across the UK to a dedicated troupe of underground fans, hooked on the pair's fast rising Cuff label. Continuing the house gangster vibe, Chicago legend DJ Sneak will play his second set of the day, followed by man of the moment and Viva Warriors mainstay Darius Syrossian, who's innovative and outspoken approach to house and techno has swept through clubland throughout the past year, with the promise of a very special season in Ibiza on the cards for 2014. A man responsible for inadvertently launching the career of Maya Jane Coles through his label boss and A&R duties at Dogmatik Records, London party staple and DC10 resident Alex Arnout will be adding his deep and driving sound to the night's proceedings. Local boys Voyeur are the London duo making waves on Kerri Chandler's Mad Tech Records. They tore up last year's legendary FOUND Street Party and are expected to bring the same summer vibes to The Coronet in June. Support comes from underground party starters, The Willers Brothers, making waves through long-standing residencies at the likes of Egg, Fire and The Warehouse.
Room 2 is handed over to seasoned party crew Hypercolour. The Bristol based outfit will be showcasing the best that house and techno has to offer. Leading proceedings is Glimpse, one half of Dense & Pika, a duo currently tearing up the world stage and making serious waves on the UK scene with their unique and forward-thinking sound. Glimpse's own latest 'Baretta' is widely tipped by DJs and clubbers alike as one of the hottest singles of the year. With nearly 10 years under his belt, Tom Demac will be treating partygoers to one of his highly acclaimed LIVE sets. The Hypercolour stalwart has spent the last decade dropping techno bombs on some of the scene's hottest labels, including Aus and Pets Recordings. Leeds native Eliphino has become known for tearing the roof off venues and festivals around Europe and is fast becoming a permanent fixture on the London scene since dropping the 2011 smash, 'More Than Me'. Fellow Leeds boy James Welsh is up next, continuing the Hypercolour vibe alongside label residents Alex Jones and Cedric Maison who complete a very exciting line up for an all-night party vibe.
Percolate find a home in Room 3, throwing Belfast boy Ejeca into the mix. The chunky bassline pioneer has quickly become one of the scene's hottest bookings and is set to be one of the fastest rising artists in 2014. Having played sell out shows from New York to Ibiza and keeping company with artists including Citizen and Bicep, Ejeca has cemented a reputation for perfectly blending classic synths and basslines with a distinctly current vibe. Support comes in the form of Cassio Kohl, who hit the circuit running in 2013 with his acclaimed track, 'Broken'. The Percolate residents are also on hand, showcasing all that's good about this "Nomadic boogie crew" currently making waves across London.
Super cool East London promotion Comm•une takes over Room 4 with a top-secret line up showcasing their unique Detroit-esque underground vibe. Previous guests at their weekly takeover of Dalston venue Dance Tunnel have included Seven Davis Jr, Throwing Snow, James Zabiela and Pedestrian so expect a varied, very special select line up representing the freshest talent on the scene.
Homegrown FOUND duo The Menendez Brothers will host Room 5, bringing with them a line up of extended friends and family, including Voyeur, Dan Shake, and Willow. The twins themselves have been part of the FOUND family since its conception and have helped played a major role in creating the special vibe that's kept clubbers in the know returning to their parties time and time again. Their very own outpost at the FOUND After Party promises a night of sweaty, take-no-prisoners raving, into the early hours.