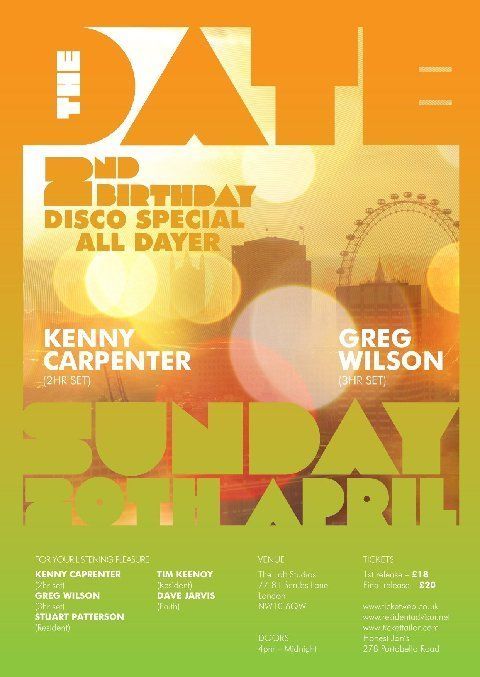 The Date's 2nd Birthday with Kenny Carpenter and Greg Wilson
The Date celebrate 2 years of bringing bona fide dj legends to one of London's finest venues in Loft Studios. Kerri Chandler, Tony Humphries, Spen and Karizma, Timmy Regisford, Danny Krivit and sadly Frankie Knuckles at our last party here and one of his final dj sets.
For our 2nd birthday we welcome two undoubted legends of disco in NYC's Kenny Carpenter and UK legend Greg Wilson. When Greg was entertaining thousands in the north of England in the early to mid eighties Kenny was playing a lot of the same records at the world's most famous disco, Studio 54. The legacy these two don's of disco have in dance music is huge and this will probably be the only chance to hear them together anytime, anywhere in the world.
This will be a special all-dayer with the hope of some spring sunshine to take advantage of the huge outdoor courtyard where we have just announced a smaller second sound system with Phil Mison of Cafe Del Mar fame getting gently Balearic. Inside Greg and Kenny work the upstairs wood beamed loft on RSH Audio's heavily stacked F1 sound system. The Loft will get a mirrorball makeover and 2BitPunk will be beaming their original visuals upstairs and in the courtyard. Disco support comes from residents Stuart Patterson and Tim Keenoy plus regular cohort Dave Jarvis (Moton Records).
The first release tickets sold out in quick time and the remaining are £18 pls b/fee online at http://www.residentadvisor.net/event.aspx?563538 or in person from Honest Jon's on Portobello Rd.