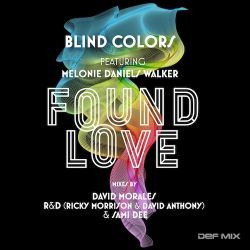 Blind Colors Ft. Melonie Daniels Walker - Found Love
David Morales launches his brand new Blind Colors project, unleashing a Soulful bomb inspired by the 1980's Third World classic, 'Now That We Found Love', featuring a dynamite performance from acclaimed vocalist Melonie Daniels Walker. Melonie Daniels Walker served a 12 year tenure as Chief Background Vocalist, Vocal Director, and Vocal Arranger for Mariah Carey. She continues to work with a broad spectrum of vocalists and musicians.
David's Classic Club Mix is a giant slice of uplifting goodness, arranged with joyful vocals backed with delicious piano hooks and a sublime keys solo, all set to a funky bass led groove. David also gives 'Found Love' a large sprinkling of Disco dust, working up an authentic slab of New York Disco at it's best! 2 highly respected British producers – Ricky Morrison (M&S) and David Anthony, who together under their R&D guise, deliver 3 superb remixes including a chunky Soulful Klub Vox and 2 tasty dubs. Closing out this Def Mix stunner is French producer Sami Dee who crafts a beautifully sophisticated deeper take on the song.
Track Listing
1. Found Love (David Morales Classic Mix)
2. Found Love (David Morales Disko Mix)
3. Found Love (R & D Klub Vox)
4. Found Love (R & D Klub Dub)
5. Found Love (R & D Searching Dub)
6. Found Love (Sami Dee's 67 East 3rd Street Remix)
'Found Love' will be released on February 8th 2016 on Def Mix Music.