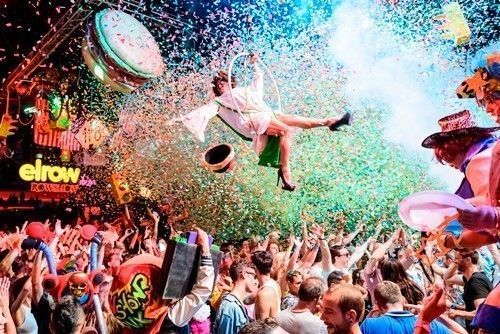 Four reasons to discover elrow-Kehakuma in July
"The best music of Saturdays", "crazy and fun in equal parts" and "a line-up impossible to find at another party", are just some of the opinions expressed by the clubbers who visited us during the start of the season. So far we only had four nights this summer and every expectation has been more than exceeded, imagine what is in store for July…
Groove Armada (DJ set), Steve Bug b2b Josh Wink, Ellen Allien, Paul Ritch (Live), Gui Boratto (Live) or Edu Imbernon are some of the names that will give their all at Space Ibiza in the next coming dates. We can give you thousands of reasons to visit elrow-Kehakuma this month, but we only need four main reasons to convince you:
#1 Mexico lands in Ibiza
This coming July 4th the Main Room of elrow will travel to Mexico with the crew formed by the English duo Groove Armada (DJ set), Jay Lumen and his techno all the way from Hungary, in addition to the power sound of Marc Maya and Mario Biani. On the Terraza, resident Javi Bora, the talented Edu Imbernon and the b2b among legends Tania Vulcano and Jose de Divina, will be the guests of Kehakuma. Jaymo & Andy George, Ion Pananides and a mysterious special guest will liven up the Ker Sunset Terrace.
#2 International and local talent together under Kehakuma
These artists will become the stars of the night in Kehakuma: Pional, one of the founders of Hivern Discs, the director of Martin Buttrich (Live) and the second b2b between Steve Bug and Josh Wink, form the most awaited union of the week. Saturday, July 11th will also welcome a performance by Paul Ritch (Live), a set by Anja Schneider and the techno-house of Toni Varga and De la Swing at elrow. Meanwhile, on the Sunset Terrace, the alternative rhythms of Jasper James, Tato and Ion Pananides will warm up the atmosphere of this outdoor area.
#3 The return of the Singermornings
The most rowdy party by elrow returns to Space Ibiza on July 18th with Robert James, the refreshing Techno melodies by Los Suruba and the residents of the club of Viladecans, Mario Biani and George Privatti. On the edgier side, Kehakuma will revolutionize Saturday with the duo Blond:ish, a live set by Brazilian Gui Boratto (Live) and the exquisite musical taste by Dauwd. As usual, Ion Pananides will be the resident of the Ker Sunset Terrace, to which Ejeca will be a part of.
#4 Who is the masked DJ?
Claptone and his characteristic Venetian mask will be entering the DJ booth of Kehakuma on July 25th with Los Suruba and a favorite of Space Ibiza, Javi Bora. Ellen Allien in the Main Room will be accompanied by Marc Maya, George Privatti, English producer Skream and the kilos of confetti that elrow has us accustomed to. Meanwhile, Kanan K7 and Ion Pananides will be responsible for the area hosted by Ker.
So do you have it clear now? Buy your tickets for elrow-Kehakuma at Space Ibiza and fill your summer with great music and experiences that you have ever lived before.