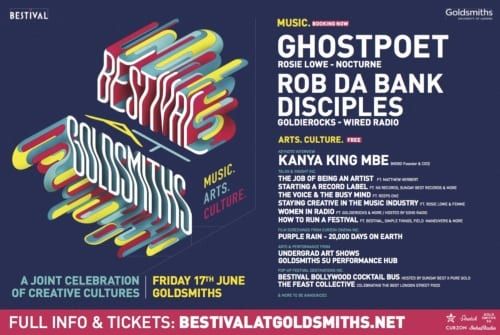 Free Lecture Programme Announced for Bestival at Goldsmiths
On 17th June, Bestival, the UK's official Best Major Festival will team up with Goldsmiths, University of London to host a unique public celebration of music, arts and culture.
Joining the previously announced evening line-up with Ghostpoet, Rosie Lowe and Nocturne in the Great Hall, South London-based house music machines, Disciples will top the bill at the Stretch, accompanying Rob da Bank, Goldierocks and Wired Radio.
To complement the evening festivities, Bestival at Goldsmiths has added an illuminating and broad collection of daytime talks, lectures and panels. Chaired by eminent Goldsmiths alumni and academics the thought-provoking programme of lectures and talks are free for the public to attend and will include:
Keynote Interview with Kanya King MBE – An interview with the founder of MOBO, who studied English Literature at Goldsmiths and is an Honorary Fellow of the university, promoter of diversity in music and the arts through her amazing work and today inspiring the next generation to get ready and reach for the stars
How to Run a Festival with Rob da Bank – Rob will be joined with a panel of festival specialists from Bestival, Simple Things, Field Maneuvers and more to discuss what they think is important when launching and managing a festival. Expect insight into the music, the creativity, the atmosphere and even some inside industry tips.
Merging creativity: The job of being an artist, with Matthew Herbert – Matthew Herbert is a legend in the electronic music scene, famed for many achievements including leading the 'New Radiophonic Workshop', being nominated for an Ivor Novello, and his collaboration with Bjork. Matthew will be making sense of the 'job' of being a creative musician – how to "manage" your creativity and how to make a living out of it.
Staying creative in the music industry, with Rosie Lowe & Femme. – Hosted by Goldsmiths' Director of Popular Music, Simon Deacon – Staying relevant, up to date, ahead of the curve and creative in the industry is tough. Rosie Lowe & Femme (both Goldsmiths alumni) talk about their learnings and top tips. A must see lecture for up and coming musicians
Starting a Record Label – Ruthie Woodward (NX Records), and Sarah Bolshi (Sunday Best) will discuss what its like launching a music label from their personal experience in the industry. Anyone who is interested in the field should stop by – this is sure to be an eye into the world of music promotion and production rarely seen. More guests to be announced
From Bowie to Prince: Why losing our heroes hurts so bad – Hosted by Dr. Jennifer Otter Bickerdike a media and music academic, specialising in fan culture and the cult of the dead celebrity, she will focus on how celebrity death impacts on our lives.
The Voice and The Busy Mind – What happens to you when you can create all the time? Can the results lead to another kind of creativity? World renowned beat boxer and artist, Reeps One speaks about his Harvard residency and how doing many things at once can unlock your potential
Women in Radio – Goldierocks & her panel of young female radio DJs and producers will debate where the industry is at with radio right now – and how relevant it still is as a medium. They will also discuss very practical career/creative advice about tools/connections you need this year to get ahead.
The university's very own cinema, Curzon Goldsmiths will showcase an incredible array of music related films including the late, great Prince's Purple Rain. The rock-musical will be shown alongside the epic British Documentary 20,000 Days on Earth depicting a fictitious 24-hour period in the life of Australian musician, Nick Cave.

Bestival at Goldsmiths will bring the excitement of one of the world's best festivals to the university's New Cross campus – and will also feature music from established stars and the most exciting up-and-coming acts and delicious street food.
The day will also celebrate Goldsmiths' rich cultural heritage as well as showcasing the new creatives emerging from the university. Final-year music students will be playing throughout the day and visitors will also be able to take in a range of Degree Shows which are running across campus.
For more information, please head to: www.bestivalatgoldsmiths.net
Tickets:
Lectures & Talks
Adult – FREE (but must register)
Page link: https://billetto.co.uk/goldsmiths-ac-uk
The Great Hall
Adult – £20 + BF
Page link: https://billetto.co.uk/en/events/bestival-at-goldsmiths-the-great-hall
The Stretch (The Student Union)
Adult – £12
Page link: https://billetto.co.uk/en/events/bestival-at-goldsmiths-bestival-at-the-stretch