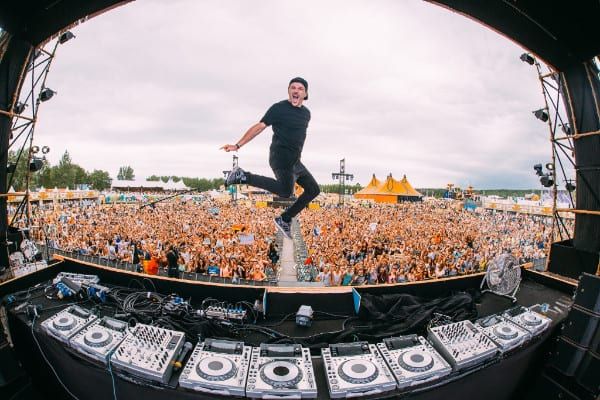 French Production Powerhouse MOSIMANN Taking Music & Performance to the Next Level
The French musical landscape is rife with electronic music talent, many of which have shaped the industry into what it is today. It's hard to think about dance music as we know if without acknowledging founding fathers like Jean-Michel Jarre, Daft Punk and David Guetta's influence. There is however another talent, also hailing from France, that is spellbinding festival crowds and defining the spirit and sound of a new generation of dance music fans.
His name is Quentin Mosimann.
With unabashed energy and a brilliant mind for music, Mosimann takes the art of the DJ to extraordinary new heights. As a true performer and already established in his homeland as a musical hero, Mosimann averted the usual trappings of stardom with a conscious and very deliberate swerve away from the corporate music machine. He knew that his heart was electronic.
The rise of Mosimann has been nothing short of epic, reining in global fans and followers from the moment he hit the decks. Why? One listen and you'll know. Music that is simply massive in it's structure is hard to ignore, especially when it's so layered with complex musical nuances, that your brain starts to change. You begin to crave the Mosimann sound. You want more. And, really- isn't that what great music does for us? We live for it. Junkies for music is what we are!
Quentin taps into something very primal that we all seek. He is a genius in that regard, morphing sounds into music, music into experiences and experiences into moments in our lives that we will never forget. Such a special gift. On stage, he is a titan of a performer; singing, drumming, DJing and maybe even flying. The discs in those CDJs may not be the only things that spin around either. High octane doesn't even begin to cover it. He is a showman of the highest caliber and the energy he channels penetrates all within ear-shot.

With the release of Goof, the US is finally getting a glimpse of this master at work. A song that requires your full attention and one that smashes the senses of any would-be genre-nazi right where they stand!