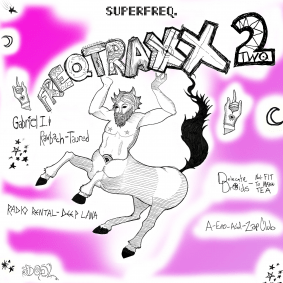 Various Artists - Freq Traxx Vol. 2
Mr.C's Superfreq imprint offers up a second volume of the Freq Traxx complilation EP, which is designed to expose new or previously unreleased gems from the label's regular stable of artists, friends and up and coming producers.
The second volume in this series kicks off with 'Taured' by Mexican artist and Tenampa Recordings label head Gabriel I, who links with enigmatic Italian producer Rawbach. Their standout effort is built on bulky drums that really get you moving and comes detailed with tense synths and frazzled pads designed to fry your brain.
Following on is a previously unreleased gem from Superfreq's transatlantic duo Delicate Droids entitled 'Not Fit To Make Tea'. They are Richard D Ruttenbergs and Dutchies and make sophisticated, warm, fuzzy sounds as this one proves with its slick, futuristic tech house design.
Then making his label debut following on from a recent remix of Mr.C's 'Show Me' is up-and-coming New Zealander Radio Rental. His brilliant 'Deep Lana' is a superbly muted tech jam and you can expect a full Superfreq release from this fast rising star in early 2019.
Rounding out the EP is the excellent 'Zap Club' a jackin', classic 303 fuelled ode to the infamous Brighton acid house palace by mysterious South Coast producer A-Eno-Acid. Discovered by Superfreq label manager Peter Wohelski through his limited vinyl releases on Chicago Bee, this special acid jam has become quite the floor-filler in the sets of the Superfreq crew over the last few months.
This is another action-packed EP that offers four fantastically vibrant tunes from a range of skilled producers who all have their own unique sounds.
Tracklist:
1. Gabriel I & Rawbach – Taured
2. Delicate Droids – Not Fit To Make Tea
3. Radio Rental – Deep Lana
4. A-Eno-Acid – Zap Club