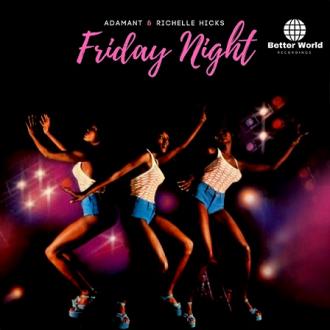 Adamant & Richelle Hicks - Friday Night
Adamant teams up with Richelle Hicks on the club-ready soulful floorfiller "Friday Night".
Parisian-born Adamant cut his teeth on dance music at the tender age of 20 when he moved to New York and would frequently hang out at legendary clubs Sound Factory, Limelight, Red Zone, Zanzibar, Tracks and Shelter. He returned to Paris in 1995 where he became PR for Laurent Garnier and Eric Morand's imprint F.Communications. After an amazing 5 years work with the label, he left F.Communications and organised parties at the prestigious Parisian clubs Folies Pigalle, Erotica, Queen, and La Scene Bastille.
Since relocating to the south of France, Adamant has been busy honing his sound and recently making waves in the soulful house circles with his Federal Hill classic 'Power To The People' remix for Victor Simonelli's Basseline Records. He joined Unquatize Recordings to release the ''Steppin Population" Anthem in May 2017, and delivered the beautiful ''Come See Me Tonight'' with Richelle Hicks on HSR Recordings.
He continues to collaborate with Richelle for the first release on a new label Better World, "Friday Night", released October 16th. The pair are currently working on several songs together.
Richelle Hicks, originally from Massachusetts, is a singer and songwriter who has so much to offer to the house community. Her beautiful vocal capabilities always stand out and her love for life is always portrayed in her music. She lived in New York for a while where she performed in clubs, including a cover of Patti LaBelle's song "Music Is My Way Of Life". She draws her inspiration from various Gospel, Soul and Jazz artists which is always reminiscent in her music. Now living in Chicago on a new journey.