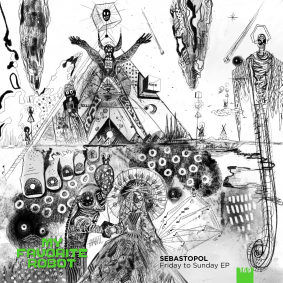 Sebastopol - Friday To Sunday EP
As the My Favorite Robot label celebrates its 10th anniversary this year, the imprint continues to offer up its artful sound with a synth influenced sonic palette at the heart of its releases. For the 169th release they welcome Sebastopol for another such superb EP delivered across 3 standout tracks.
Sebastopol is French soundsmith Se?bastien Bouchet, a man with a knack for deep, eccentric house and techno. He has previously played in synth bands with hair metal and psychedelic influences and has also realised solo work on Kompakt. He's played much talked about sets at Burning Man with Rebolledo and Barnt and after living in Berlin is now based between Berlin and Paris.
Opening up the EP is 'Friday to Sunday' a clean and crisp house track with transcen- dental, long tailed synths over slick rubber drums. Freaky wordless vocals add a sense of party and the shapeshifting chords keep things nice and dynamic throughout.
Next is 'Jacob', a big cut with joyous keys and chords dancing about like fireflies. An epic breakdown builds tension and when the drums bounce again they sweep you right off your feet and carry you away.
Completing the top trio of tracks is 'Neonostra', a darker, more menacing cut with a heavy lead synth line gently oscillating through metallic hits and sharp hi hats. The drums are just as heavy and heads down, and muffled vocals add to the intensity meaning this is one to bring real late-night energy to the club.
These are three well-crafted tracks that showcase Sebastopol's true synth skills.
Tracklist:
1. Friday To Sunday
2. Jacob
3. Neonostra