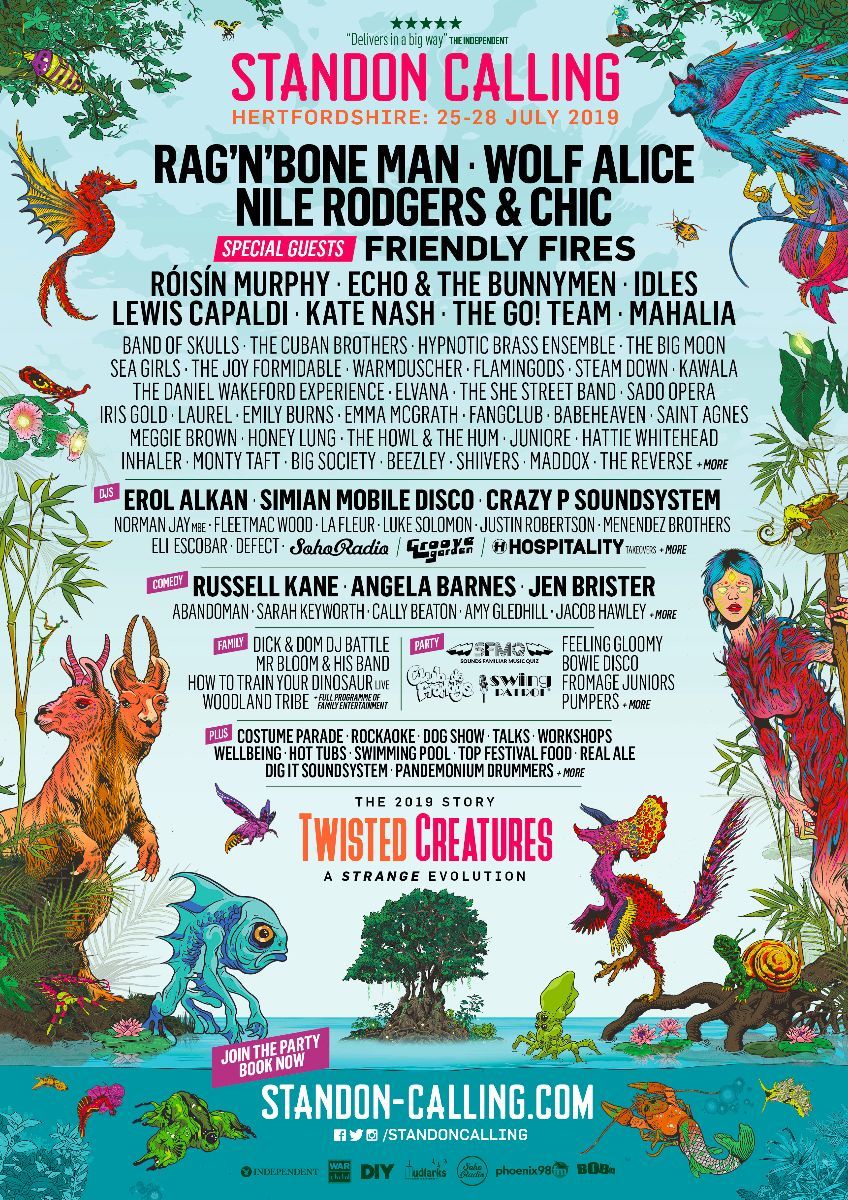 Friendly Fires, Mahalia And Róisín Murphy Lead New Names Announced For Standon Calling 2019
With an unmissable weekend of eclectic and unrivalled music, comedy and fun for all the family already confirmed, Standon Calling 2019 stands as a defining weekend of the festival summer – full of celebrated performances and the full 360 degree festival experience with surprises at every turn.
Boasting a phenomenal music bill combining Rock 'n' Roll Hall Of Famers, Mercury Prize winners and pop superstars – things continue to go up a notch, with Special Guests and local St Albans' natives Friendly Fires joining the party this July. Blending tropical vibes and sizzling party sensibilities, Friendly Fires are recognised as one of the best live bands on the planet. Two stunning albums have catapulted the band to mammoth stages and with their hotly-anticipated return last year with 'Love Like Waves' and 'Heaven Let Me In', Friendly Fires are once again set to claim their crown as an essential live band for an entire generation – dancing moves and all!
Revered as a unique and creative powerhouse, Róisín Murphy has emerged as a true svengali of modern culture. First emerging as one-half of 90s favourites Moloko, Róisín has continued to innovate and create with her own take on experimental pop, scooping Mercury Prize nominations and critical acclaim across the board. As Róisín Murphy enters a bold new era, expect her appearance at Standon Calling to be a display of an artistic genius unlike any other.
Already packed with the best in thriving new music, the hotly-tipped Mahaliawill head to Hertfordshire this summer with her slick neo-soul meets R&B set to takeover in the months ahead. Guaranteed to be a moment to tell others about in the years to come, Mahalia is on the cusp of superstardom. A multi-discipline collective that has emerged as one of the most influential new movements in British music, Steam Down will bring a whole lot of unbridled talent and energy to Standon Calling this summer – taking the feeling and jaw-dropping atmosphere of their Deptford residency shows for an incredible festival moment. Capturing the bursting world of modern jazz out of the heart of South London, their assortment of effortless artistry and grooves are bound to go down a storm when Standon Calling comes around.
Alongside a string of rising names including the sunshine glints of Kawala, local songwriter Emma McGrath returning after previous appearances on the BBC Introducing stage at the festival, fizzing Irish punks Fangclub, the raw and punchy Babeheaven and folk wordsmith Hattie Whitehead – it ensures that a true mix of styles and flavours take pride of place at Standon Calling this year, with music discovery and a new favourite act around every corner.
Talking about Standon Calling 2019, Emma McGrath said:
"Standon Calling is just awesome; from the people to the food to the atmosphere. The festival has been very supportive over the years and I'm really looking forward to heading back this summer and playing the main stage for the first time".
Bringing the good-time vibes at the festival this year is 'The Undateables' star Daniel Wakeford, providing the ultimate festival set full of infectious fun withThe Daniel Wakeford Experience – while Russia's Sado Opera will be serving up their unmistakable live spectacle to the Standon Calling crowds with one of the most talked about shows in Europe. Making a name on the Berlin nightlife scene, their live shows bring an extravagant and eccentric party to the fore, fusing disco, electronica, funk and more together for a bold and unabashed set of unrestrained, gender-ambivalent love.
A hallmark of any Standon Calling experience, the Cowshed will once again be rocking with the very best drum'n'bass beats as Hospitality bring a stunning lineup of mixing greats. The legendary Danny Byrd will be rolling with the classics as he soundtracks an unstoppable night, with the likes of Metrik, Fred V, Makoto, Hugh Hardie and Lens bringing the hits alongside MC Carasel and Ruthless MC. Combined with Standon Calling's revered array of club night takeovers and party spinners once again taking the stage across the weekend – including the Groove Garden taking up a new home at the festival with Crazy P Soundsystem, Luke Solomon, Justin Robertson, Eli Escobar, Ray Mangand Kid Fiesta confirmed today, the likes of the Menendez Brothers, Defect, Allright and Jaydee announced and Club De Fromage, Feeling Gloomy, Bowie Disco and Pumpers all on board – the very best in club sights make Standon Calling the very definition of what a festival should be in 2019 from top to bottom.
On his return to Standon Calling, Danny Byrd said:
"I can't wait to come back to Standon Calling, that Cowshed sound-system is absolutely rinsing!"
Speaking about the new additions to the Standon Calling 2019 lineup, Festival Director and Founder Alex Trenchard said:
"It was brilliant to see such a great reaction to our first wave of artists, and we're delighted to add even more special names and performances for Standon Calling 2019. Friendly Fires' 2009 Standon Calling performance remains one of the most memorable Standon Calling moments of all-time.They're one of the best bands I've ever seen live and this St Albans band's homecoming Special Guests show is going to be mind-blowing. With the likes of Roisin Murphy, Mahalia and Steam Down joining today – and the unmissable Sado Opera – it's undeniably our greatest Standon Calling line up to date, and one that has me counting down the days to July already!"
From live music greatness to late-night electronic frolics, these new additions join a phenomenal bill spread across the grounds of Standon Lordship, boasting an eclectic mix of international superstars, talked-about favourites and rising new talent. Headlined by the iconic Nile Rodgers & CHIC, the Mercury-Prize winning Wolf Alice and pop supremo Rag'n'Bone Man – the likes ofEcho & The Bunnymen, IDLES, Lewis Capaldi, Kate Nash, The Big Moon, Band Of Skulls, The Go! Team, The Joy Formidable, Sea Girls, Erol Alkan, Simian Mobile Disco, Warmduscher and many more are all set for remarkable moments across the July weekender. With family entertainment from Dick & Dom and Mr Bloom & His Band, alongside a stellar variety of unique activities and a laugh out loud comedy bill including Russell Kane, Angela Barnes and Abandoman – Standon Calling 2019 is packed from top to bottom with something for everyone.
Packing an unrivalled atmosphere and a reputation for delivering unforgettable festival moments, Standon Calling offers a welcoming embrace to a weekend of music, arts, fun and pure festival joy. With an ever-growing and loyal audience from around the country, it's a calling to an unparalleled and down-to-earth celebration that once a year pulls a community together. Nestled in the stunning Hertfordshire countryside, it's an easy-to-reach voyage into something truly special. At Standon Calling they dare to be different, with a purposefully eclectic, inclusive and creative programme, carefully curated to reflect the diverse interests of the crowds that gather year after year in its fields.
By day, expect music to touch your heart, make you think, make you move and make you dance. Indulge with award-winning food & drink, settle in to enjoy acclaimed comedy, or entertain the whole family with activities and performances for all ages – taking a dip into the swimming pool or witnessing the famous Standon Calling Dog Show. The options are endless. By night, Standon Calling is one bold show-stopping beast, as world-class performers arrive in full force. Don't miss late-night frivolities from some of the most celebrated electronic acts and DJs on the planet, leading the party right up to 4am. The perfect home for summer memories, Standon Calling is a defining beacon of the British festival experience.
Tier 4 tickets are now on sale for Standon Calling 2019 – with previous tiers selling out in record time. For further details, head to http://www.standon-calling.com/tickets