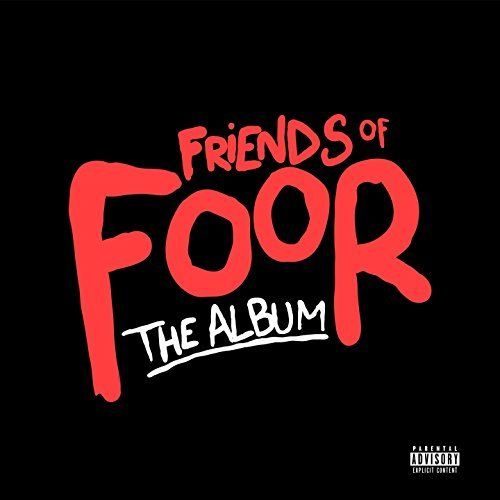 Various Artists - Friends of FooR
FooR are a UK collective of producers, musicians, DJs, and MCs at the forefront of the current UK Garage revival. Championed by the likes of Radio 1's MistaJam and DJ Target, they've so far released a handful of singles (including 'Down' feat. Karen Harding), and remixed the likes of Wretch32, Tinchy Stryder, Ghetts, and beyond. The four-piece have also become UK Garage's fastest rising stars on the live circuit, with shows including Isle Of Wight Festival, EDC, Boardmasters, Ministry of Sound, and Mutiny (see below for forthcoming live dates).
'Friends Of FooR' is FooR's first commercially available mixtape; following 2017's Pure Garage mix album – their installment of the genre's most prestigious series debuted at No.9 in the UK compilation charts.
A hybrid of mixtape and artist album, 'Friends Of FooR' features all their own productions. There's a dizzying array of UK vocal and production talent across the 18 track release, with names including Jaguar Skills, Lisa Maffia, Majestic, Bassboy, and more. 'Friends Of FooR' also contains their 3 forthcoming singles, 'Premonition', which features Eddie Craig, from garage legends, The Wideboys; 'Hooligans' (feat Evil B vs B Live); and 'Rum Woman' (feat. Bar Li). Included as one of two bonus tracks is FooR's cover of Rozalla's rave classic 'Everybody's Free', which was recently selected by Holy Goof for his forthcoming FABRICLIVE 97 album.
Hailing from Southampton, UK, FooR (fronted by Gavin Foord, Aki, MC Jukie & Tyrone) have all been friends for 15 years – literally since they were kids. Once they hit their teens they started making music together and then throwing parties, first locally, and then across the South Coast.
Their biggest show to date was arguably at last summer's Isle Of Wight festival, where they were asked to play in The Big Top between fellow Saturday night headliners, Example and Zara Larsson. But such is the current buzz around FooR, that they're now travelling across the UK, and abroad, with gigs including London's The Steelyard (with Matt Jam Lamont & Friends), Ministry of Sound, and The Nest, plus shows in Wales, the South Coast, Scotland, the Midlands, and two gigs in Amsterdam. Summer 2018 festival dates will be announced soon.
FORTHCOMING LIVE DATES:
Saturday 24th February – Friends of FooR, SpeedFreax, Westerunie, Amsterdam
Saturday 24th February – Pryzm, Kingston
Friday 2nd March – Crash Manor, Plymouth
Saturday 17th March – Friends of FooR, Switch, Southampton
Saturday 30th March – UK Garage Festival, London
Friday 6th April – Friends of FooR, The Nest, Dalston, London
'Friends Of FooR' Tracklist
1.FooR x Evil B vs B Live – Hooligans
2.FooR x Killa P x Irah x Long Range – Black Bandana
3.FooR x Jaguar Skills – Ticket Only
4.FooR x Lisa Maffia x Maxwell D x Sharky P – Shine
5.FooR x Eddie Craig – Premonition
6.FooR x Bassboy – Right Through You
7.FooR x Tyrone x Warbz – Get Gassed
8.FooR x Bar Li – Rum Woman
9.FooR x Effie – Cry FooR Me
10.FooR x Sami Switch – Elevate
11.FooR x Shapes – Cut Shapes
12.FooR x Endor – Samurai Sword
13. FooR x Majestic x Dread MC – Fresh
14.FooR x Development x Shotty Horroh – Brutal
15.FooR x Jay Robinson – Real Bad Man
16.FooR x Mind Of A Dragon – Fired Up
Bonus Tracks:
FooR – Everybody's Free
FooR – Cafe Del PaR