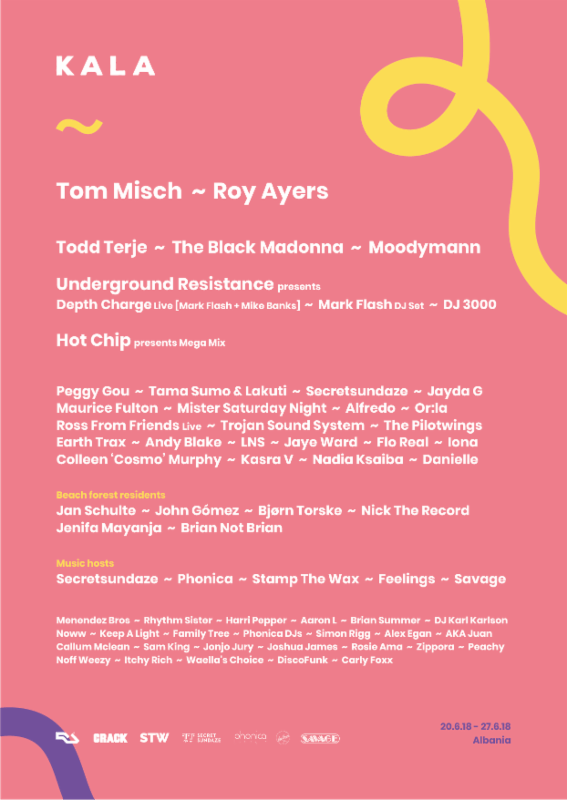 Full Lineup Announcemed for new festival, Kala
Tom Misch, Roy Ayers, Todd Terje and The Black Madonna have been confirmed for Kala's debut festival, taking place across seven days at an untouched, paradise beach location in Albania from 20th – 27th June 2018.
Completing the sunshine-fuelled soundscape of Kala, Tom Misch epitomises the musical diversity on offer. With his anticipated sophomore album, 'Geography' set for release on April 6th, Tom's distinctive fusion of low-slung hip-hop beats, glittering disco and jazz instrumentation forms the perfect soundtrack for Kala's spectacular sunsets over the sparkling, azure sea.
A legend in the truest sense, Roy Ayers has been at the forefront of jazz, funk and soul for nearly 70 years. Acknowledged as the godfather of neo-soul, Ayers musical journey has seen him move from jazz to funk to R&B to disco to afrobeat to hip hop and even house. Over the years, he has worked and played with an eye-watering list of artists, including Miles Davis, Herbie Hancock and Fela Kuti, and has become one of the most sampled artists in history – snippets of his music have been used by the likes of Madlib, Kanye West and Mary J Blige.
Dubbed The King of Summer Jams, Norwegian DJ, producer, and remixologist Todd Terje will ignite Kala's dancefloors beneath the star-studded skies with his sun-drenched disco, whilst The Black Madonna's fun-filled, eclectic sets make the perfect fit for Kala's carefree ethos.
Tama Sumo & Lakuti, Earth Trax, Flo Real, Jaye Ward, Danielle and a sonic army of Kala's friends and family join the likes of Moodymann, Underground Resistance, Hot Chip, Maurice Faulton, Jayda G,Secretsundaze, Mister Saturday Night, Ross From Friends (Live), Or:la, Alfredo and Trojan sound System, all previously announced for the debut of the new boutique festival.
Kala's unique, naturally stunning setting on the backdrop of the unexplored Albanian riviera is one of Europe's best kept secrets. Visitors can lose themselves exploring the paradisiacal surroundings of sandy beaches and crystal clear waters, with unrestricted access to the beach caves, natural canyons and hiking trails that snake around the amazing site. Besides the week-long music schedule, Kala adds further to the adventure with a carefully selected food program ranging from beach BBQs to slow food pop up restaurants, a soon-to-be-revealed roster of wellness activities, and day-trips to explore Southern Albania's natural wonders, such as Blue Eye, Grama Bay, Ksamil and Porto Palermo.
With artists encouraged to play longer sets, open-air parties until sunrise, an intriguing weekend-long Beach Forest Residents Party hosted by esteemed selectors Jan Schulte, John Gomez, Bjørn Torske, Jenifa Mayanja, Nick The Record, and Brian Not Brian, immersive art installations, and a myriad of surprises hidden in the nooks and crannies of its fabric, Kala's intimate world is shaping up as truly unique.
From exotic beach huts to luxury hotels overlooking the Ionian Sea, Kala sets itself apart offering premium accommodation at accessible prices to accommodate their 2000 strong community. Tickets for Kala start from just £245 and include full week hotel accommodation, transfers and full festival access. Party-goers will fly into Corfu, where low-cost flights are available. From Corfu, a specially chartered boat will take passengers to the festival site, only a couple cocktails away. Expect good music, good drinks and good vibes while you cruise up the Albanian Riviera.
With so much on offer, Kala reaches beyond a traditional festival experience, providing a week-long adventure to discover some of the best kept secrets in the Mediterranean, whilst delivering an impeccable lineup rarely experienced at such intimate events.
Tickets to Kala start at just £245 and include festival access, accommodation and transfers from Corfu. All tickets available at: http://kala.al
FULL LINEUP ANNOUNCEMNT:
Tom Misch
Roy Ayers
Todd Terje
The Black Madonna
Moodymann
Underground Resistance presents
Depth Charge (Live) [Mark Flash + Mike Banks] Mark Flash (DJ Set)
DJ3000
Hot Chip presents Mega Mix
Peggy Gou
Tama Sumo & Lakuti
Secretsundaze
Jayda G
Maurice Fulton
Mister Saturday Night
Ross From Friends (Live)
Or:la
Alfredo
Trojan Sound System
Andy Blake
The Pilotwings
Colleen 'Cosmo' Murphy
Earth Trax
Kasra V
LNS
Jaye Ward
Flo Real
Iona
Nadia Ksaiba
Danielle
Plus beach forest residents:
Jan Schulte
John Gómez
Bjørn Torske
Nick The Record
Brian Not Brian
Jenifa Mayanja
And our friends:
The Menendez Brothers
Rhythm Sister
Harri Pepper
Aaron L
Brian Summer
DJ Karl Karlson
Noww
Keep A Light
Family Tree
Phonica DJs
Simon Rigg
Alex Egan
AKA Juan
Callum Mclean
Sam King
Jonjo Jury
Joshua James
Rosie Ama
Zippora
Peachy
Noff Weezy
Waella's Choice
Itchy Rich
DiscoFunk
Carly Foxx