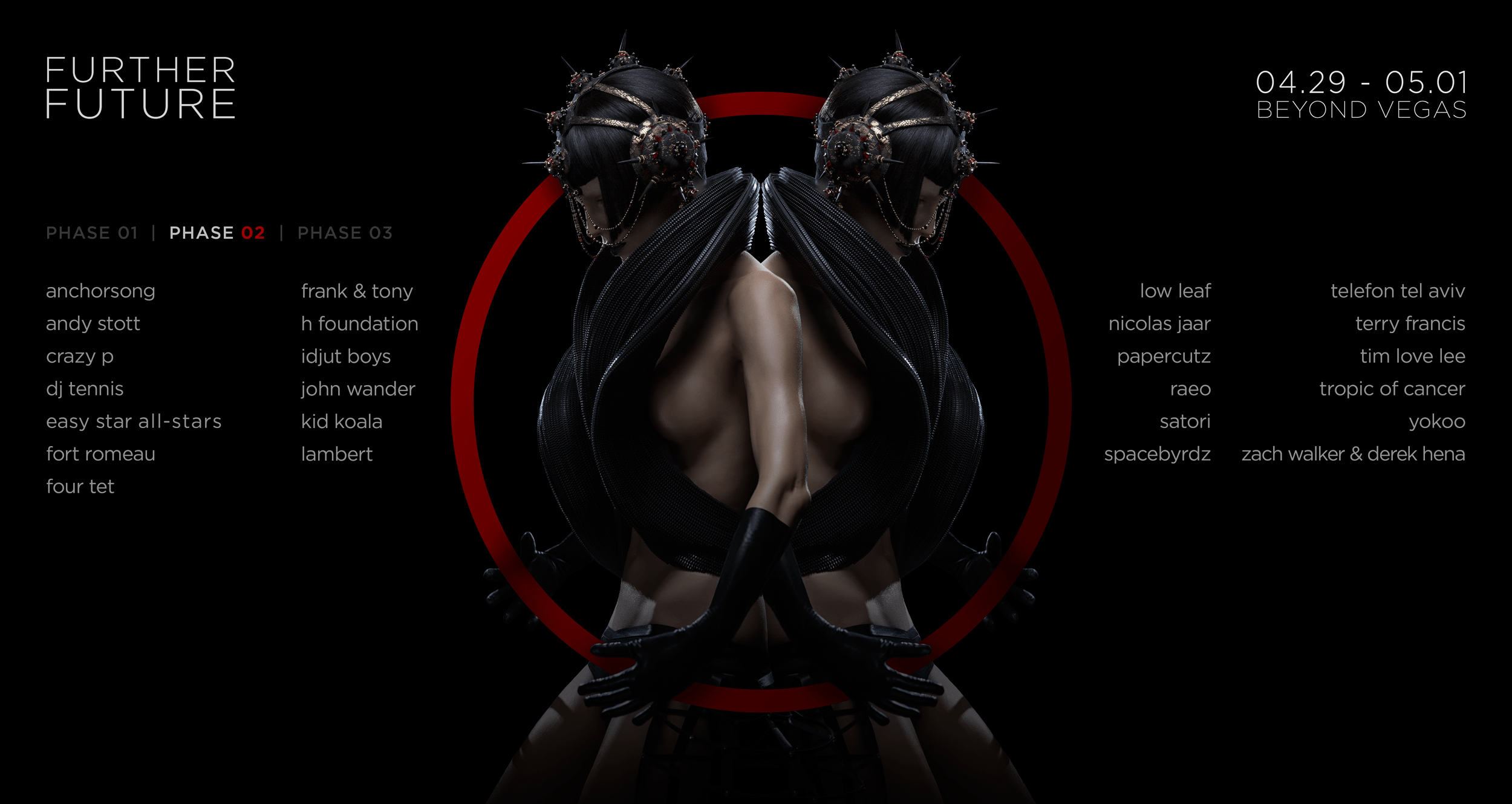 Further Future Unveils Phase 2 Of Massive FF002 Lineup
Further Future, the award-winning boutique festival returning for its second year in the desert beyond Las Vegas, will deliver the musical stylings of more than 70 international acts, many of whom are heralded as legends and pioneers in their fields, alongside a range of other features, including talks by leaders in the worlds of business, science and the arts, all combining against a stunning landscape certain to expand the boundaries of imagination.
With its Phase 2 announcement, FF002 continues to challenge the norm with a diverse and highly curated selection of talent including the enigmatic Nicolas Jaar and a rare performance from celebrated reggae troupe Easy Star All-Stars, known for addictive covers of classic rock bands. Joining them will be legendary genre-bending savant Four Tet, Ninja Tune's turntable wizard Kid Koala, Life and Death founder DJ Tennis, fabled pop-meets-disco group Crazy P, and other world-class performers including Andy Stott, Tropic Of Cancer, Terry Francis, Fort Romeau, Low Leaf, Papercutz, Frank & Tony, Idjut Boys, and many more (full roster below).
From timeless instrumental hip-hop to downtempo dub, groove-laden house beats to minimal techno, chillwave to disco, and ethereal vocals to acoustic medleys, Phase 2 builds on an already monumental Phase 1 roster with revered performers like Dixon, Oneohtrix Point Never, The Pharcyde, &Me, Daedelus, Derrick Carter, Donato Dozzy, Elderbrook, Still Corners, Joeski, Birds of Passage, Kimball Collins and more,with the final Phase 3 music lineup arriving in December.
Spanning from April 29 to May 01, 2016, FF002 seeks to transcend the common festival experience by curating an unorthodox spectrum of genres while also cultivating an equally diverse selection of workshops, wellness sessions, and speakers, including renowned thought leaders from the fields of tech, science, business and more.
Founded by the forward-thinking minds behind Robot Heart, Further Future is dedicated to creating an uninhibited breeding ground that will incubate ideas that shape our future. The event aspires to bring creative minds from around the world together in unison, building a vivacious and bold space that allows music, science, technology, art, and innovation to meld. More than a music festival, FF002 is a place to grow, rebuild, and inspire the very people that stand beside you.
We extend to you the challenge to build a better future with us, Beyond Vegas, and beyond the confines of everyday life. Join us in the Further Future. #FF002
Phase 2 Roster: Nicolas Jaar, Four Tet, Easy Star All-Stars, Kid Koala, DJ Tennis, Crazy P, Tropic of Cancer, Telefon Tel Aviv, Fort Romeau, Andy Stott, Low Leaf, Papercutz, Idjut boys, Frank & Tony, YokoO, Derek Hena & Zach Walker, Lambert, Satori, Terry Francis, H Foundation, Anchorsong, Spacebyrdz, John Wander, Raeo, Tim Love Lee
Phase 1 Roster: Dixon, Oneohtrix Point Never, The Pharcyde, &Me, Birds of Passage, Daedelus, Derrick Carter, Donato Dozzy, Elderbrook, Greg Wilson, Hauschka, HVOB, Inland Knights, Jam City, Jane Fitz, Joakim, Joeski, Kimball Collins, Lusine w/ Trent Moorman, Matt Tolfrey, Neel, Pattern Drama, Pedro Aguiar, Rampue, Rival Consoles, Stev, Still Corners, Talal, Voices From The Lake, WhoMadeWho