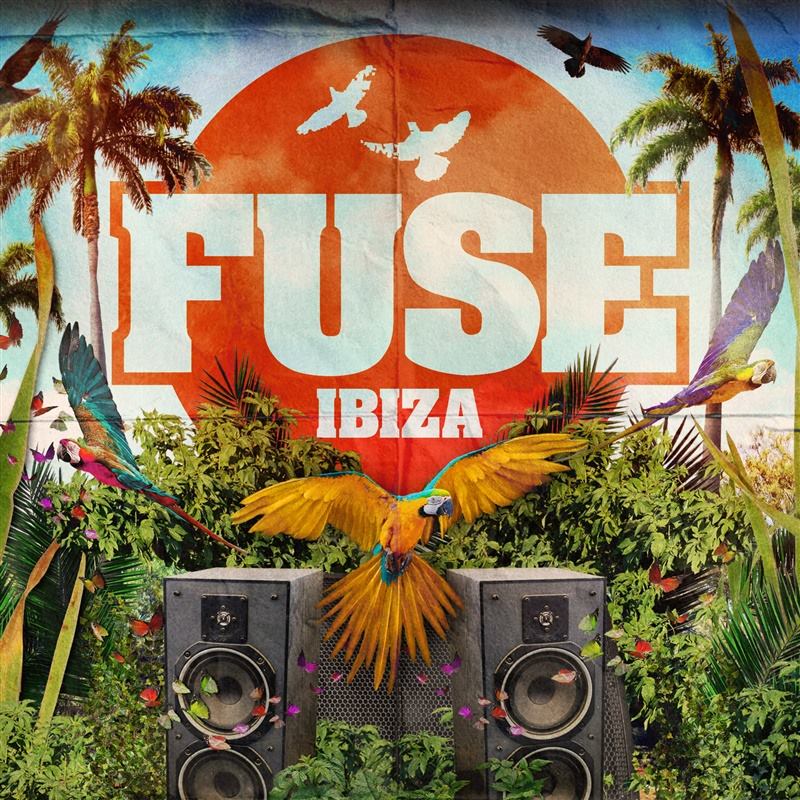 FUSE back in Ibiza for 8th season even bigger and better!
FUSE returns to Ibiza for its 8th season with their biggest set of showcases to date! Opening 13th July and closing the 28th September, FUSE will host a stage as part of HYTE Wednesdays @ Amnesia across x5 dates as well as taking over the mythical BENIMUSSA PARK (27.7.16) for another unmissable open air, daytime special with special guests Cristi Cons and Nima Gorji.
From its DIY roots and infamous Sunday after-hours back in 2008, FUSE has since evolved into a name synonymous with the London scene and one of Europe's most trusted nomadic raves, with a fiercely loyal International following and an enduring ethos – great sound, great crowd, great vibe. A tight-knit collective of musical masterminds at the helm, co-founder Enzo Siragusa with fellow original resident (and head of label A&R) Seb Zito, have been running the operation with a rare integrity since day one, packing out venues often on the sheer strength of its core artists and their signature sounds. The extended family of artists now boasts some of the most promising talent on the scene today, including Archie Hamilton, Rich NXT, Rossko and Dan Farserelli. Having gradually and organically expanded outwards to European hotspots such as Croatia, Amsterdam, Barcelona and Italy's clubbing capitals, it's the magical White Isle Ibiza that is FUSE's spiritual home away from home, and there's no doubt it's back with a bang for 2016…
FUSE @ HYTE (Wednesdays), Amnesia Ibiza
Starting out with free parties on the beach in 2008, a 4-year long residency at Sankeys Ibiza followed, and after a trio of special dates at Space Ibiza last year, FUSE is back for its 8th season, this time collaborating with the mighty HYTE at Amnesia across x5 dates. Kicking off 13th July and going all the way through to the FUSE closing 28th September, highlights include Enzo Siragusa B2B DeWalta on July 27th, sets from Rex Club resident Molly, special guest Loco Dice and a rare set from powerhouse trio Enzo Siragusa B2B Seb Zito B2B Rossko for the one-off Amnesia Terrace takeover, 17th August. A live performance from Romanian duo Livio & Roby and George G aka Premiesku will bring the heat 14th September with honorary FUSE player Valentino Kanzyani and Amsterdam's Ferro. FUSE family artists Rossko, Seb Zito, Rich NxT and Archie Hamilton will all play regularly throughout the season.
BENIMUSSA PARK OPEN-AIR SPECIAL 27.7.16
FUSE will also host an unmissable DAY and NIGHT event on Weds 27th July, starting at the hallowed grounds of Ibiza's abandoned zoo, Benimussa Park where dancers can channel their free spirits in the open air with a soundtrack from main man Enzo Siragusa, Romanian star Cristi Cons, great Dane Nima Gorji and favourites Rossko B2B Archie Hamilton. This one is limited capacity so don't sleep! The party will continue into the night and into the next day at Amnesia in the club's main room with core fam joined by one of Berlin's finest DeWalta (in a special B2B with Enzo), FUSE long-timer Guti (LIVE) and founding father of Slovenian techno Valentino Kanzyani. Day/Night combo tickets are available here for 55€.
ENZO SIRAGUSA – EXTRA DATES
When it comes to rave culture there aren't many artists out there as passionate or dedicated to the cause as Enzo Siragusa – now internationally recognised as a true figurehead of the scene. A hotly in-demand DJ in his own right, debuting at an impressive #62 spot in RA's top 100 last year, Enzo is also a talented producer with multiple killer releases on own imprint FUSE London – a platform he created for his and the crew's distinctive take on the minimal sound. Catch Enzo at HYTE on two separate occasions outside the FUSE residency, including the HYTE closing party 5.10.16.
HYTE @ AMNESIA 31.8.16 | HYTE CLOSING PARTY 5.10.16
FULL SEASON LINE UP
FUSE STAGE @ HYTE, AMNESIA IBIZA
WEDNESDAY 13TH JULY – FUSE @ HYTE, AMNESIA OPENING (Main Room)
Enzo Siragusa | DeWalta
Seb Zito B2B Rich NxT
Rossko B2B Archie Hamilton
WEDNESDAY 27TH JULY – SPECIAL DAY & NIGHT EVENT
16.30-MIDNIGHT: FUSE @ BENIMUSSA PARK (OPEN AIR EVENT)
Enzo Siragusa | Cristi Cons
Nima Gorji | Rossko B2B Archie Hamilton
NIGHT, FUSE @ HYTE, AMNESIA IBIZA (Main Room)
Enzo Siragusa B2B DeWalta
Guti (LIVE)
Valentino Kanzyani
Seb Zito B2B Rossko
STANDARD TICKETS 25€ & COMBO-TICKETS 55€ (DAY & NIGHT) AVAILABLE HERE
WEDNESDAY 17TH AUGUST – FUSE @ HYTE, AMNESIA (TERRACE TAKEOVER)
Enzo Siragusa B2B Seb Zito B2B Rossko
Molly
Loco Dice (Special Guest)
WEDNESDAY 14TH SEPTEMBER – FUSE @ HYTE, AMNESIA IBIZA (Main Room)
Enzo Siragusa B2B Valentino Kanzyani
Premiesku (LIVE)
Seb Zito B2B Ferro
WEDNESDAY 28TH SEPTEMBER – FUSE CLOSING @ HYTE, AMNESIA (Main Room)
Enzo Siragusa B2B Seb Zito
Rossko B2B Archie Hamilton
Rich NxT B2B Dan Farserelli