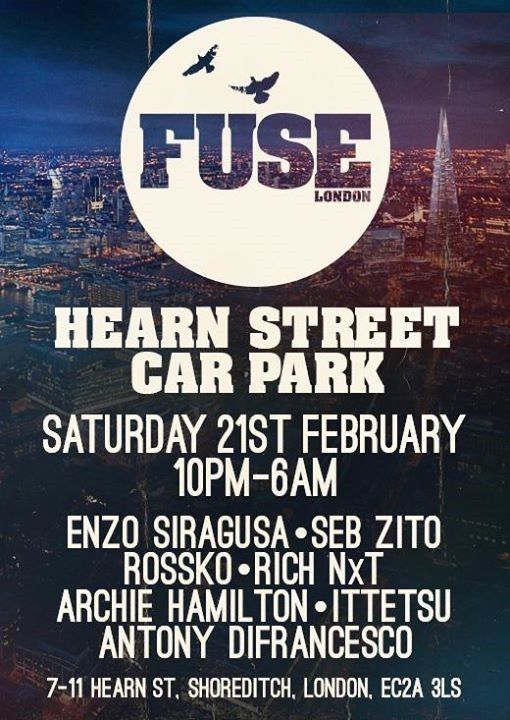 FUSE London at Hearn Street Car Park
FUSE London is proud to announce it is set to host the last ever planned event at Hearn Street Car Park in London on 21st February. With the surrounding area set for redevelopment in the near future, this is set to be the last event held at the now legendary space, and the license has been entrusted to London's premier house and techno residency; FUSE. It will be FUSE's first Saturday night event in over four years, and hence will provide a different experience for the faithful.

Fresh from their 10 hour NYD special, the FUSE residents including Enzo Siragusa, Seb Zito, Rossko and Rich Nxt will be joined by regulars Ittetsu, Archie Hamilton and Anthony Difrancesco to make the short journey from Village Underground to the intimate event space that is Hearn Street.

Continuing in a similar vein to last year in taking the FUSE experience to new venues across the UK, the London based residency is set to make sure that the curtain comes down on one of London's most loved event spaces with a suitable celebration. As ever FUSE's sound team will be meticulously planning the set up to best cater for the space so as to ensure the sound quality is as expected from a FUSE event.

Since its inception in 2008, and having just celebrated their Sixth Birthday, FUSE has established itself as a London institution and a major player on the international clubbing circuit, hosting over 300 successful events across Europe and around the world whilst also launching two critically acclaimed record labels; FUSE LONDON and INFUSE. Having completed another successful season at Sankeys Ibiza, plus hosting the sell out events at Mint Club Leeds and Sub Club in Glasgow in 2014, their stock is a high as ever.

The philosophy of FUSE is simple: to stand out from the crowd by hosting exceptionally high-­‐quality events, built around superior-­‐technical standards of sound design, and a close-­‐knit core of residents. FUSE ensures line-­‐ups are always well programmed and resonate with the distinctive FUSE sound.
LINE UP:
ENZO SIRAGUSA
SEB ZITO
ROSSKO
RICH NXT
ITTETSU
ARCHIE HAMILTON
ANTONY DIFRANCESCO