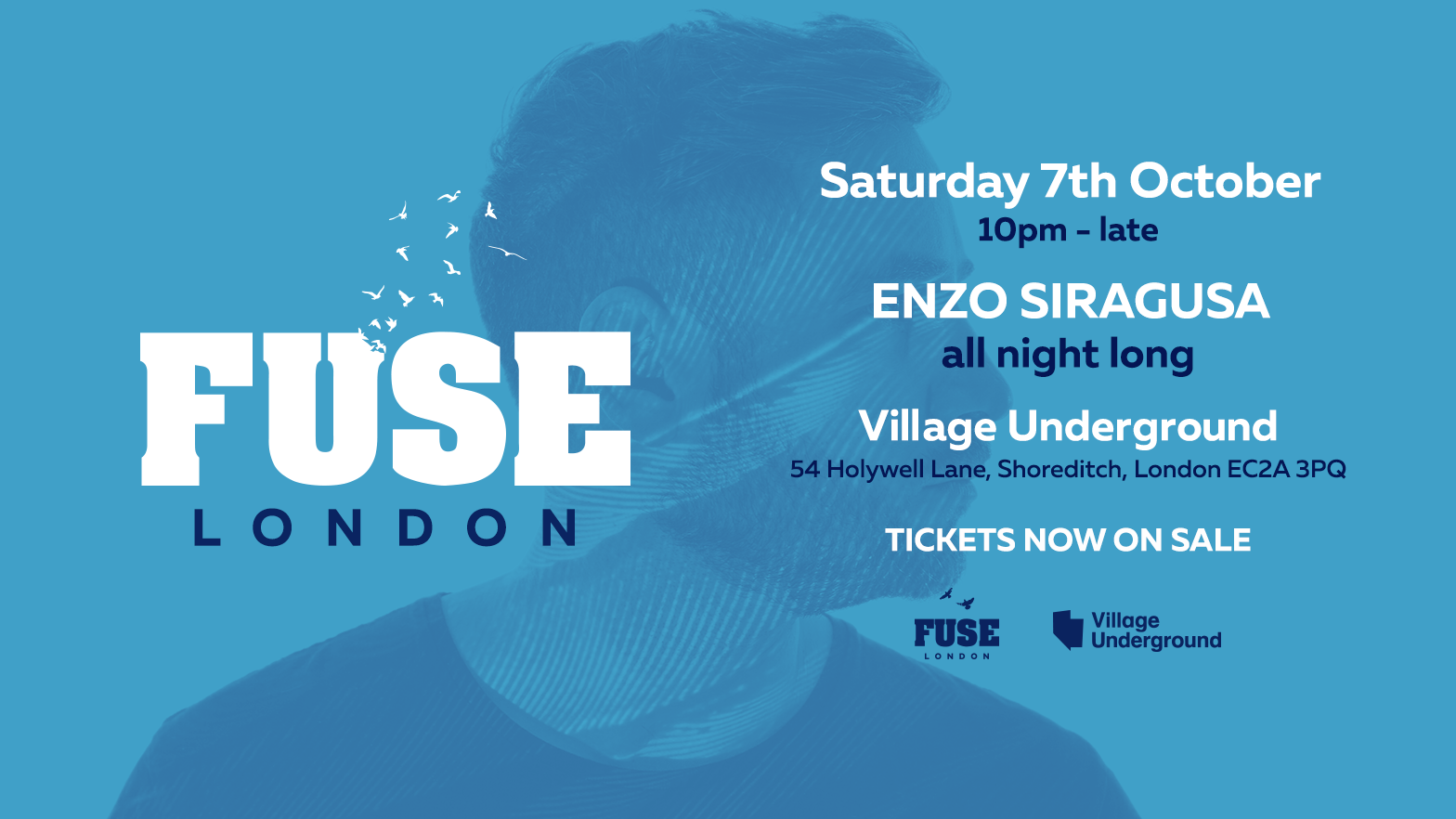 FUSE London presents Enzo Siragusa All Night Long
Enzo Siragusa is set to play a rare 'All Night Long' Saturday night set in London at FUSE's musical home, Village Underground.
Back in January, Enzo embarked on his first solo Sunday showcase in the eight-year history of FUSE. He played 'All Day Long' to a packed out crowd and took his audience on an exquisite journey through his 25-year record collection. This was a sold out affair, which left hundreds turned away at the doors due to the club being full to capacity from start to finish.
Fast forward 10 months, through the year that has seen Enzo tour worldwide as far as North America and Australia, and play for esteemed events Warehouse Project, and We Are Festival. Plus an impressive list of FUSE showcases on top at Off Sonar, Sonus Festival, MDRNTY Cruise, Studio 338. The rebirth of 93 Feet East with INFUSE and their FUSE summer residency at Amnesia Ibiza with HYTE. Off the back of this, Enzo is more inspired than ever and ready to dig deep 'All Night Long' in his home city.
When it comes to rave culture there aren't many artists out there who are as passionate and dedicated as Enzo. His attention to detail when throwing a FUSE event has lead them to be stand out in London and beyond. So expect to be blown away by all the important elements of a solid rave, incredible music, bespoke sound and lighting, and a dedicated crowd on this not to be missed 'All night Long' showcase where Enzo swaps Sunday daytime for Saturday night.
Pre order Guti Cristi & Cons Volver EP here with Enzo Siragusa Remix on Juno.
Argentina meets Romania in this superlative team up on Fuse London, one of the first times the label has reached out from their close knit group to harness a more outward direction.
Title track 'Volver' trips along inmulti-colour splendour, it's hypnotic groove underpinned by warm oscillating pads whilst VINYL ONLY track 'Nuevo' is a sprightly fresh tech roller. Label head Enzo Siragusa ups the energy on his remix with a well rounded kick drum imbuing the track with a sense of urgency .
http://fuselondon.net/
https://www.facebook.com/djenzosiragusa
https://soundcloud.com/enzosiragusa
https://twitter.com/enzosiragusa
https://www.discogs.com/artist/2229189-Enzo-Siragusa
Saturday 7th October
10pm – late
Village Underground
London