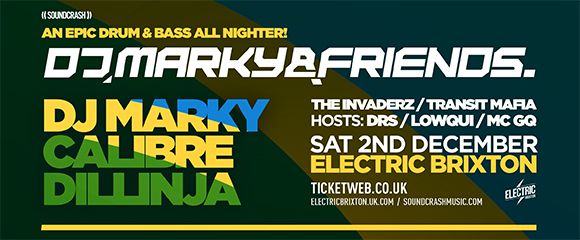 Soundcrash presents DJ Marky & Friends at Election Brixton – 2 December
Although only 28, DJ Marky is already an established superstar DJ in his homeland Brazil. Based in Sao Paulo, the clubbing and dance music capital of Brazil, Marky is known as one of the country's biggest talents.
For this reason, as well the influence he's had on the drum and bass movement, DJ Marky is considered a true legend. For his latest shindig DJ Marky has invited his nearest, dearest and most talented friends to party at Electric Brixton.
First up to hit the decks will be Belfast native Calibre. A specialist in drum and bass and liquid funk, Calibre has been on the scene since 1995. Dillinja, one of the most prolific producers within the drum and bass scene, is up next. Anyone with even a passing interest in UK dance music will probably have raved to one of his wild, percussive explosions.
Finishing off the drum and bass acts is Transit Mafia, Detonate – drum&bass music event in Nottingham and Sheffield – resident DJ and co-founder. Last but not least, The Invaderz will be joining in to deliver dance & electronic tunes to make sure the party never stops.
An out of the world, party-till- you-drop line-up of DJs deserves the best of the best in terms of MCs.LowQui, regarded by many as a true DJ's MC for his ability to read crowds, compliment mix structures, and facilitate the transfer of energy between DJ and audience, is the first host of the night. MC GQ, one of LowQui's unequivocal inspirations, will also be in on the party. MC GQ has been at the top of the chain for more than 15 years and has traveled to all corners of the globe to shake up a night and keep the energy flowing. DRS, known for his ability to keep up with the intense rhythmic intricacies of drum n bass, completes this all star line up.
For a full list of shows coming up please visit: http://electricbrixton.uk.com/events.php