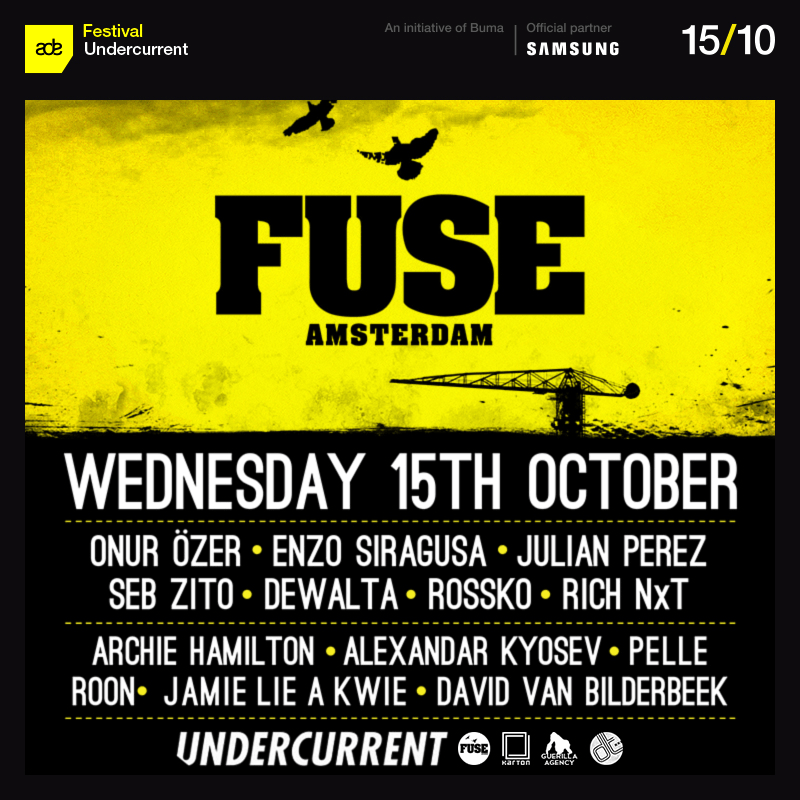 FUSE make their ADE debut on October 15th
FUSE will be making their debut appearance at the Amsterdam Dance Event, following on from a successful season of parties on the White Isle. The UK based imprint and event series will be throwing a party on Wednesday 15th October at one of the cities most revered venues Undercurrent, a glass warehouse situated behind the Central station.
Highly regarded for its reputable group of residents, the event will see appearances from London and Ibiza residents Enzo Siragusa, Seb Zito, Rossko and Rich NxT. In addition there are three of FUSE's most trusted guests in Onur Özer, Julian Perez, and De Walta. They will be joined by one of Amsterdam's most respected underground imprints, Karton, who will be running the second room with a line-up boasting label founders Pelle and David van Bilderbeek, Moscow Records boss Archie Hamilton, and Karton favourites Alexandar Kyosev and Roon.
The FUSE concept, built on superior sound design, resident DJs, and an emphasis on amassing quality crowds, means its debut appearance at the seminal Amsterdam Dance Event is one that will fall on thousands of eager ears. Furthermore the venue is a large warehouse situated on the waterfront, appearing as if it is floating on water, and features panoramic glass windows that aid an idyllic sunrise in the early hours.
Listings Info:
Club Night:
Fuse x Karton ADE Showcase
Date:
Wednesday 15th October
Venue:
Undercurrent, Papaverweg t/o 54, 1032 KJ Amsterdam, Netherlands
Door Times:
21:00 – 05:00
Admission Prices:
€15 / €20 / €25
Web:
FACEBOOK
RESIDENT ADVISOR
Full Line Up:
Fuse
Onur Özer
Enzo Siragusa
Julian Perez
Seb Zito
De Walta
Rossko
Rich NxT
Karton
Archie Hamilton
Pelle
Alexandar Kyosev
Roon
David van Bilderbeek