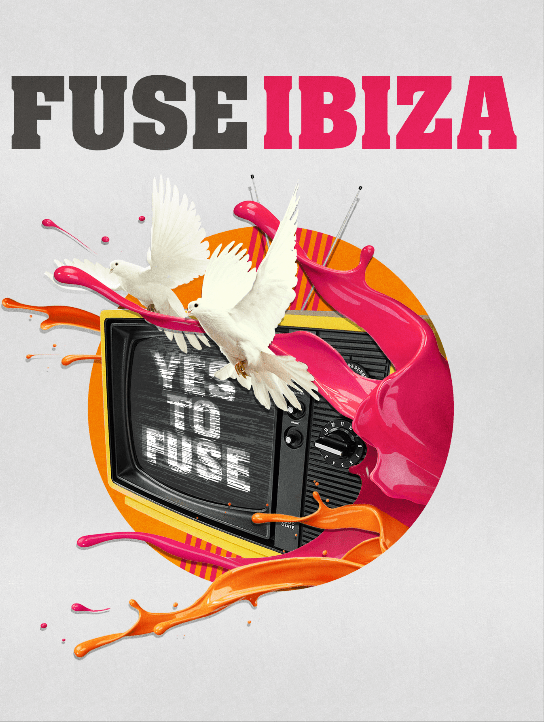 FUSE Returns to Ibiza for 8th year…
FUSE is returning to Ibiza for a landmark 8th season this summer, this is a major achievement for any burgeoning club brand making its mark but it is now recognized not only as one of the fastest growing and emerging major players on the island but for its a solid dedication to the underground.
For anyone that has ever been to a FUSE event you will see that their core philosophy is simple: to stand out from the crowd by hosting exceptionally high-quality raves, emblematic of superior-technical standards of sound design, and a close-knit core of residents, select guest artists and collaborators.
FUSE already has a well-established history and reputation starting life in 2008 in London and quickly took Sunday clubbing to another level. Beginning in East London then over time building to become a well-respected event that is well recognized across the clubbing centers of the world.
For them Ibiza was THE most important place to set out their stall – to show how the London sound could be transported to the dancefloors of the clubbing capital of the world. So this season they are embarking on a special collaboration with techno pioneers HYTE on Wednesdays at Amnesia to showcase their event at 5 specially selected dates throughout the season, commencing on 13th July and closing the 28th Sept.
They will also host an unmissable DAY and NIGHT event on Weds 27th July, starting at Benimussa Park where you will be free to dance in the open air with the FUSE spinners including Enzo Siragusa, Cristi Cons, Nima Gorji and Rossko + Archie Hamilton back to back. The party will then continue throughout the night and into the next day at Amnesia in the club room.
On 17th Aug you will find them on the famous Amnesia Terrace with a special and rare 3 DJ back to back performance. Check out the power trio Enzo Siragusa B2B Seb Zito B2B Rossko. There will also be a special guest to welcome, the infamous Loco Dice – this event is again not to be missed.
Over the past few years FUSE has enjoyed unprecedented success attributed to its core residents and specially selected guests. It will be bringing this definitive London sound to the shores of Ibiza
#YESTOFUSE
FULL SEASON LINE UP
WEDNESDAY 13TH JULY
HYTE @ AMNESIA IBIZA
CLUB – OPENING
Enzo Siragusa
DeWalta
Seb Zito B2B Rich NxT
Rossko B2B Archie Hamilton
WEDNESDAY 27TH JULY
SPECIAL DAY & NIGHT EVENT
DAY
FUSE @ BENIMUSSA PARK
OPEN AIR EVENT
Enzo Siragusa
Cristi Cons . Nima Gorji
Rossko B2B Archie Hamilton
NIGHT
WEDNESDAY 27TH JULY
HYTE @ AMNESIA IBIZA
CLUB
Enzo Siragusa B2B DeWalta
Guti (LIVE)
Valentino Kanzyani
Seb Zito B2B Rossko
EARLY BIRD TICKETS AVAILABLE FOR THE DAY EVENT HERE
WEDNESDAY 17TH AUGUST
HYTE @ AMNESIA IBIZA
TERRACE
Enzo Siragusa B2B Seb Zito B2B Rossko
Molly
Special Guest
Loco Dice
WEDNESDAY 14TH SEPTEMBER
HYTE @ AMNESIA IBIZA
CLUB
Enzo Siragusa B2B Valentino Kanzyani
Premiesku (LIVE)
Seb Zito B2B Ferro
WEDNESDAY 28TH SEPTEMBER
HYTE @ AMNESIA IBIZA
CLUB – CLOSING
Enzo Siragusa B2B Seb Zito
Rossko B2B Archie Hamilton
Rich NxT B2B Dan Farserelli