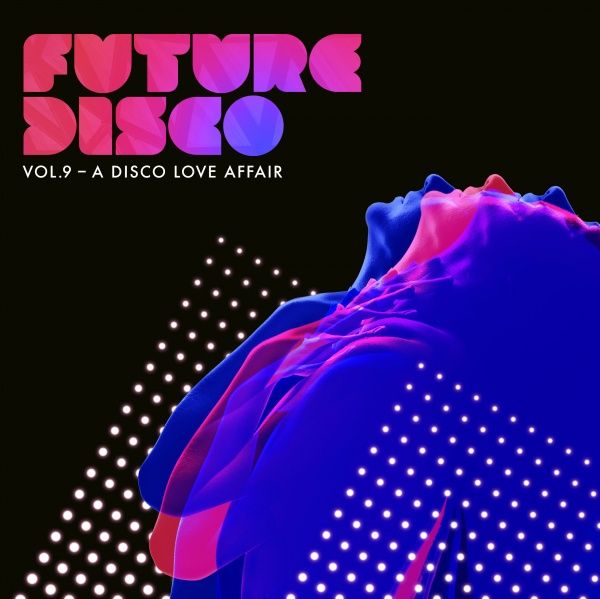 Various Artists - Future Disco Vol 9
'A Disco Love Affair' pays homage to the long-standing love affair between dance music and disco. Kindred spirits, they have kept the sparks of the underground alive through almost five decades. Released on Valentine's Day, Future Disco's latest edition honours seven years and nine episodes experience exploring the limits of what defines the genre and how it exists in the present moment.

The opening moments capture a snippet of Nicky Siano, the original resident at New York's Studio 54 who went on to create The Gallery, a successor to David Mancuso's Loft series of parties. This bow to humble beginnings, when disco shaped the birth of electronic music in the 80s, paints a framework for the producers of today who are still using disco as their foundation.

Here Future Disco do what they do best and elect the freshest talents, from Fatima Yamaha, I Robots and HNNY, who each shaped the musical landscape of 2015, to prevailing remixers Joshua James and Tuff City Kids. The resurrection of some of disco's original pioneers, New Order is celebrated alongside unreleased material from Hess Is More, Boxed In, Needwant imprint's own talent Ashworth, and an original Future Disco edit from Flash Atkins, all packaged within a mixed and unmixed version.

It's a compelling ride that undoubtedly proves disco how lives on, despite the bumps along the way. The vibe it spawned paved the way for dance music as we know it and it's treasured influence will never truly be extinguished.

Tour Dates
Following up from events in London at Night Tales and Somerset House Ice Rink and Southampton in December 2015, Future Disco jets off on a mini-tour of Asia for January.
14th January 2016 – Number One, The Bund – Shanghai
16th January 2016 – Woobar – Hong Kong
http://futuredisco.net/
Tracklisting:
1. Fatima Yamaha – What's a Girl to Do.
2. LXRY – Square 1 (Joe Goddard Remix)
3. AN2 – Lazy Sun (Spoiled Youth Mix)
4. HNNY – Oma Doris
5. Usio – Gonna Make It
6. I – Robots – Dirty Talk
7. New Order – Tutti Frutti (Tom Trago's Crazy Legs Remix)
8. Hess Is More – Youarenotaprimate (Dimitri From Paris At The Loft Instrumental)
9. PBR Streetgang – Page One (Tuff City Kids Remix)
10. Jesper Ryom – Apolune
11. Native Riddim – COEO
12. Sirens Of Lesbos – Polynesia Dance
13. Vessels – Elliptic (Barker & Baumecker remix)
14. Boxed In – All My Love (Joshua James Remix)
15. Flash Atkins – Drug Empire (Future Disco Edit)
16. Ashworth – Cork (Kris Davis & Yost Remix)
17. Jonas Saalbach – Ancient Lake feat Paul Klatt
Unmixed CD Tracklist
1. Fatima Yamaha – What's a Girl to Do.
2. HNNY – Oma Doris
3. Usio – Gonna Make It
4. Hess Is More – Youarenotaprimate (Dimitri From Paris At The Loft Instrumental)
5. PBR Streetgang – Page One (Tuff City Kids Remix)
6. Native Riddim – COEO
7. Boxed In – All My Love (Joshua James Remix)
8. I – Robots – Dirty Talk
9. New Order – Tutti Frutti (Tom Trago's Crazy Legs Remix)
10. Ashworth – Cork (Kris Davis & Yost Remix)