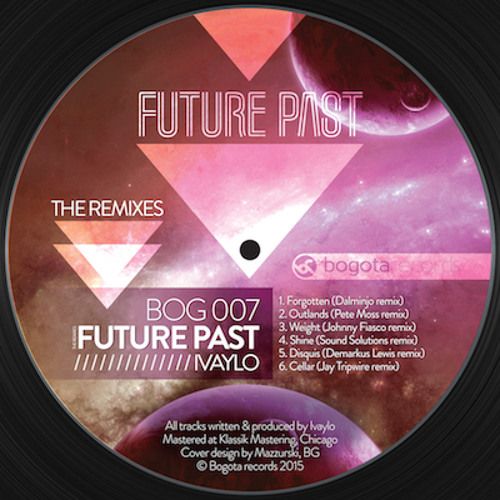 Ivaylo - Future Past (The Remixes)
Norwegian deep house label Bogota Records considers Ivaylo's Future Past (The Remixes) the end of 'phase one.' The label has issued six fantastic releases, making some serious waves in the house music community with its signature lush, dreamy, rhythmic sound. This seventh issue from Bogota returns to the output of flagship artist Ivaylo, the Bulgaria-born DJ based in Oslo. Future Past (The Remixes) is notable, as the title unintentionally hints, in that it draws upon label tracks from previous releases, giving them new remixed interpretations laying out the direction of the label. An impressive cadre of house music talent from around the world is on board to supply these remixes, making this an essential release.
Let's delve right into it. Dalminjo (Limestone Recordings, Papa Records) offers a sophisticated remix of "Forgotten", featuring pleasant string lines and lovely tuned percussion. Famed Philadelphian Pete Moss (Ovum Records) brings a funky tech-house aesthetic to "Outlands", with a solid bass and drum interplay perfectly tailored for the dance floor. Legendary Chicago house music don Johnny Fiasco (Klassik Fiasco) lays on the heavy swing for his interpretation of "Weight", and takes things well into the deep zone with splashes of chiming pads and a touch of vocoder. Out of Bulgaria comes Ivaylo's mates, the duo Sound Solutions (Adultempo Specialists) who blend swirling arpeggiations and ominous echoed synth stabs into their revision of "Shine". Demarkus Lewis (Grin Music), the tall Texas house music veteran, slaps on some tough rhythms, some 303-ish lines, and a pulsing low end for a particularly beefy version of "Disquis". Last, but certainly not least, Jay Tripwire (Tonality, Poker Flat) provides an evocative, sublimely building remix of "Cellar", featuring clanging percussion, liquidy found sounds, filtered chords, and the hypnotic drum-play he's known for.
Bogota Records knows the past, and repeating quality like this in the future is a foregone conclusion. Stay tuned to hear what other gems the label and Ivaylo have in store …
Label and Artist Links:
www.bogotarecords.com
www.facebook.com/IvayloMusic