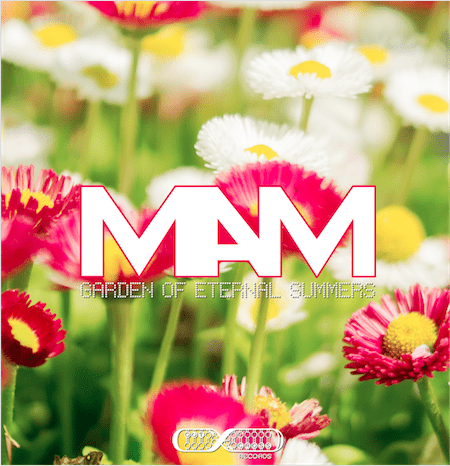 MAM - Garden Of Eternal Summers
Following on from previous full-length albums, 'Love Lights Music And More' and 'More Music, Lights And Love', Leeds-based duo MAM – aka Miguel Campbell and Matt Hughes – are back to present their third LP, 'Garden Of Eternal Summers'. Scheduled for release on via Outcross Records on 4th March and comprised of 14 tracks, it's an album born out of late night jam sessions with guitars and synthesisers.
Leading with dreamy, psychedelic synths is lush opener 'Digital Emotion' before second track 'Memory Touch' switches things up to tell a lighter, bouncier tale of it's own. 'Street Boutique' introduces a grittier bassline underneath a crescending old school synth melody, whilst 'Love Shock' eases the pressure with a retro guitar riff set against summery keyboard chords. 'Future Mystery' continues this sun-kissed theme, with soft, echoey keys complimenting a bass guitar riff, before a harder-hitting bassline and drums add an extra dimension to the breakdown midway through the track.
The final two tracks 'Organic Voyage' and 'Double Chance' act as the sunset on MAM's summer garden of an album, with evocative saxophone samples and airy synths bringing the album to a hazy, relaxed end.
Tracklist:
1. Emotion
2. Memory Touch
3. Eternal Summers Pt 1
4. Street Boutique
5. Love Shock
6. Neon Horizons
7. Vertigo
8. Acid Bright
9. Almost Nothing
10. Future Mystery
11. Night Patterns
12. Eternal Summers Pt 2
13. Organic Voyage
14. Double Chance

About MAM:
MAM – the combined forces of Miguel Campbell and Matt Hughes – have been releasing records since 2007 via label boss Miguel's imprint Outcross Records as well as Wolf & Lamb, Hot Creations & Future Classic. From the early days of 'After Midnight' through to recent releases including 'Love Lights Music & More' to 'More Music, Lights and Love', the pair have continued to evolve over the years, pushing their French Touch sound into exciting new territory.
For more information on Outcross Records, please visit:
http://www.outcrossrecords.com/
https://www.facebook.com/outcrossrecords
https://twitter.com/outcrossrecords
https://soundcloud.com/outcrossrecords