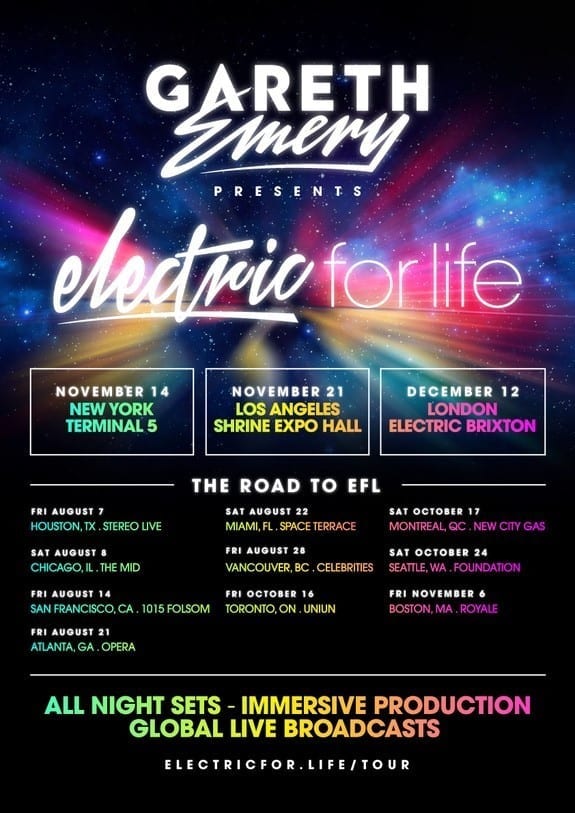 Gareth Emery: Road to Electric for Life – 10 Dates Added Due To Popular Demand
Due to popular demand, GARETH EMERY has announced that he will be adding a handful of new dates to the Electric For Life Tour to ensure that all fans have the opportunity to partake in this exhilarating excursion with the unveiling of Road to Electric For Life! Stunning crowds of thousands wherever he goes, it's evident that Gareth Emery has been in extraordinary demand all over the globe for years and the Road to Electric For Life proves that he's not slowing down anytime soon. To meet this overwhelming demand, ten thrilling dates have been added to turn the tour into an 13-stop US run, before Gareth heads back to his home country to cap it all off at the Electric Brixton finale! Tickets for Road To Electric For Life go on sale this Friday June 26th.

With pre-sale tickets for both flagship shows at Terminal 5 (NYC) and Shrine Exposition Hall (LA) having sold out minutes after they went on sale – fans will have to act quickly to guarantee their spot during the Road To Electric For Life.

The Electric For Life Tour will see Gareth take his audience on a musical journey which will revisit some of his favorite tracks from the past year that have been chosen on his Electric For Life radio show alongside critically-acclaimed tracks from his most recent album Drive. Staying true to his call to action about the extinction of 1 hour sets – Gareth will be headlining all 11 dates with OPEN to CLOSE sets at some of the world's most illustrious venues. As every single element of the show is fine tuned and timed perfectly to each and every track, fans will be enraptured in the breathtaking landscape that is Gareth's envisioning of his Electric For Life Tour.
Pulling out all the stops this year to truly create something remarkable for his fans, this forward-thinking and all-encompassing multi-date tour is truly one for the record books for Gareth Emery. Emery fans that aren't able to make it to the shows will get the opportunity to submerge themselves in the world of Electric For Life via the live stream, which will run through his performance at Shrine Exposition Hall. Stay tuned to Gareth's socials for more information very soon!


ROAD TO ELECTRIC FOR LIFE TOUR DATES

8/7 – Stereo Live – Houston, TX
8/8 – The Mid – Chicago, IL
8/14 – 1015 Folsom – San Francisco, CA
8/21 – Opera – Atlanta, GA
8/22 – Space Terrace – Miami, FL
8/28 – Celebrities – Vancouver, BC
10/16 – Uniun – Toronto, ON
10/17 – New City Gas – Montreal, QC
10/24 – Foundation – Seattle, WA
11/6 – Royale – Boston, MA
10/14 – Terminal 5 – New York, NY
10/21– Shrine Exposition Hall – Los Angeles, CA
12/12 – Electric Brixton – London, UK