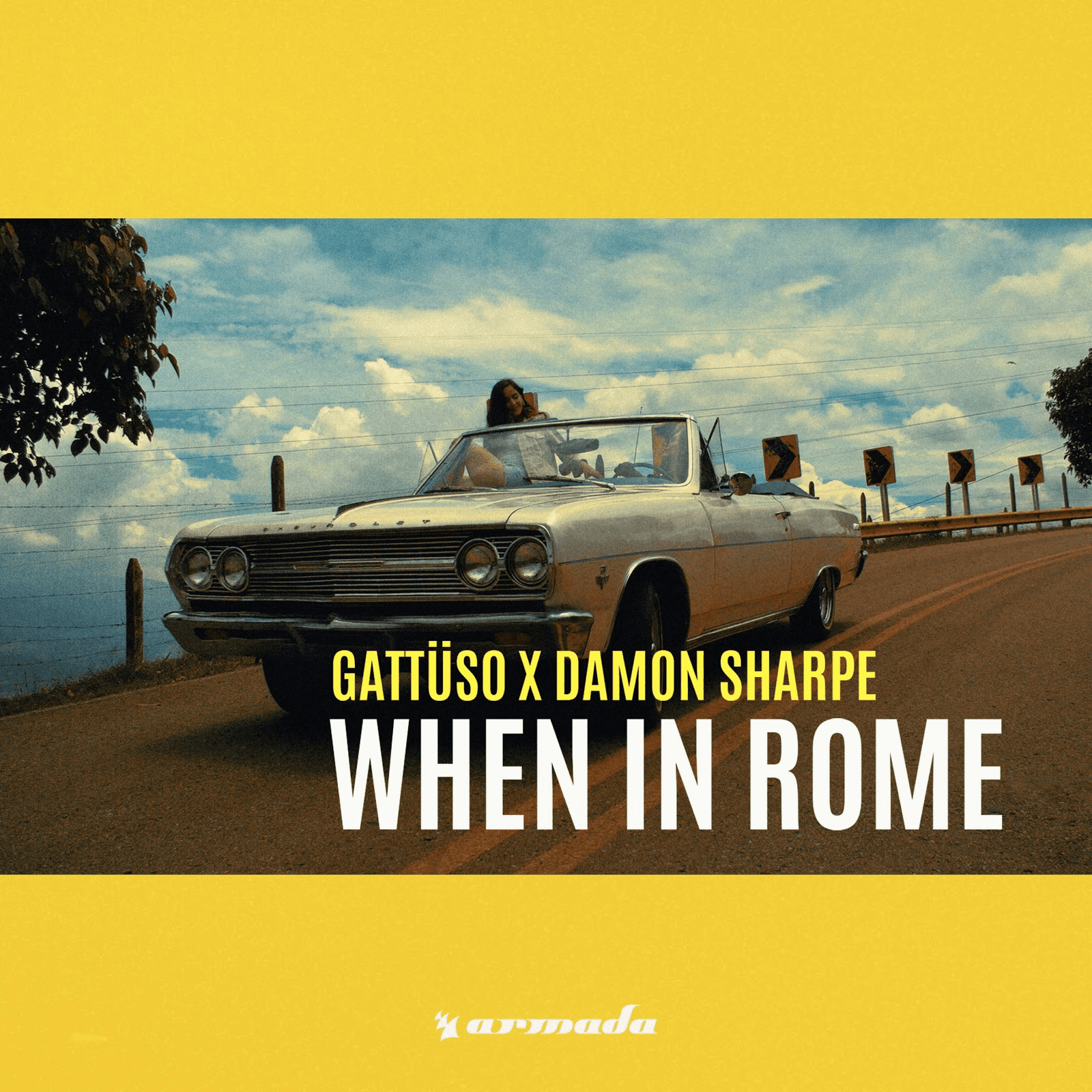 GATTÜSO x Damon Sharpe – "When in Rome" – out now on Armada Music
New York City-based producer GATTÜSO has teamed up with Damon Sharpe for the summertime anthem "When in Rome" – out now on Armada Music.
The song has the perfect touch of dance and pop, with lighthearted and catchy vocals. Out now with the single is an accompanying music video, featuring DJ/cover model Natalia. The brightly colored and Polaroid-textured video, directed by Rafatoon, encapsulates freedom and the decision to live within the moment. It documents Natalia and a new friend…the adventure and chemistry that plays out over a summer night filled with countryside drives and dances under a technicolor disco ball.
"Damon was in town from LA and came by the studio.  He played me the original demo of "When In Rome," which he had written with Cimo Frankel, with just vocals and an acoustic guitar.  In the first seven seconds, I knew this was the one. I loved the story, I loved the message of the song and I thought it fit perfectly for me.  Be free, be crazy, and love your life. That's what I do," GATTÜSO says.
Damon Sharpe adds, "Working back and forth with Gattuso between NYC and LA was awesome. I thought this song was a really special one, with a strong personal message, and I really wanted a partner on it that I could trust to make it amazing with me. I was down in Costa Rica at a writing camp when I heard the first pass of the song with the new drop melody, which had a whistle sample. I thought it fit perfectly and I recorded it live, whistling on a mic in my room, in the middle of the jungle. We both knew Natalia B from LA.  It was funny that we ended up casting a second Natalia B in Colombia to shoot the video with her, so this became the story of two Natalias. Rafatoon did an amazing job bringing this song to life and the two Natalia's brought so much warmth and love to the story."   
Speaking of her work in the video Natalia Baruilich comments "I relate so much to the message of this song and feel so connected to this project. I also wanted to show my endless support to the LGBT community. Lastly, who isn't thrilled by a new love?"
Watch the video HERE.
ABOUT GATTÜSO
Since his first release, "Who We Are" in summer 2018, GATTÜSO has rapidly made a name for himself in the dance music scene. In just under a year, he has charted top 10 on Billboard Dance Radio, his songs have been streamed over 20 million times on Spotify and Apple Music, and his music has been endorsed by top artists such as Tiesto, R3HAB, Galantis, Sam Feldt, Steve Aoki, and many more. GATTÜSO has released music with leading international dance labels Enhanced Music and Armada Music, R3HAB's label CY3RPVNK as well as through his own label, T&T Records.
ABOUT DAMON SHARPE
Damon Sharpe is an American Grammy and ASCAP award-winning record producer, songwriter and artist who works in Los Angeles. He has contributed many recognizable songs to popular culture and has been involved with the production of various popular albums that cumulatively have sold over 40 million copies. Damon has worked the likes of Jennifer Lopez, Ariana Grande, Pitbull, Alesso, American Idol, and XFactor alum, among others. His songs have been featured in many feature films, television shows and commercials around the world including The Pitch Perfect Soundtrack and The GRAMMY AWARD-WINNING Chicago soundtrack, to name a few.
CONNECT WITH GATTÜSO
CONNECT WITH DAMON SHARPE