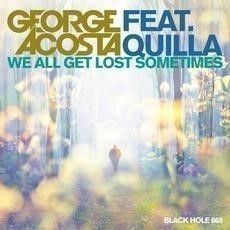 George Acosta ft Quilla- We All Get Lost Sometimes
If you're looking for an uplifting, banging and at some moments slightly dreamy progressive house track, look no further, as George Acosta and Quilla bring you exactly that! Three Drives gives the original a nice trance spin in his stunning remix.
Born and raised in Montreal, Canada, Quilla's story is as intriguing as her music. A cultural hybrid, she studied classical piano throughout her childhood, going on to perform in punk, indie, experimental jazz and afrobeat bands as a teen and young adult. Having studied anthropology and linguistics at McGill University, she has also travelled the world as an archeologist and ethnolinguist excavating sites in Belize and Cambodia, and documenting endangered languages in Peru, Paraguay and Chile. Her lyrical content is influenced by these life experiences and she views the dance music world as a potential catalyst for producing transformative and transcendental experiences for people.