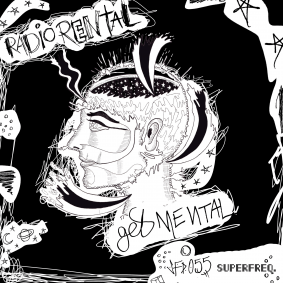 Radio Rental - Get Mental EP
Superfreq welcomes Malaysia based Brit Radio Rental for a three track EP that showcases his infectious, intergalactic club sounds.
Radio Rental has 15 years in the game behind him and has fine-tuned his craft in that time. It looks to the future and layers up warm bass with catchy samples to take you into the next dimension and has come on the likes of Zulu, Subterraneo and Pukka Up. He's previously held residencies at The End, The Cross, and played plenty of Europe's finest clubs. This brilliant new EP re-states his sonic skills in some style.
Fantastic opener 'Acid Rain' is a silky, seductive track with icy hi hats and bubbly synths bringing a smooth and trippy feel. Gurgling pads and whirring loops all add detail to this most slinky and atmospheric of grooves.
Next up is the characterful 'Sophia the Robot,' another timeless bit of house with sci-fi vocal motifs and spaced out pad work. It's a fantastically futuristic cut with rubbery drums really making their mark.
Last up is 'Twisted in Your Mind', a darker and more high pressure track with alien synths bringing life to the stark beats. It's a terrific track that hits hard and will make the floor sweat as it barrels along through the cosmos.
These three tracks all tell their own unique stories and bring plenty of fresh flavours to the floor.
Tracklist:
1. Acid Rain
2. Sophia The Robot
3. Twisted In Your Mind