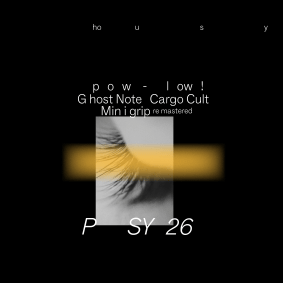 Pow-Low - Ghost Note
Pow-Low and PSYCLE.'s relationship continues to flourish as the producer serves up a fourth fantastic single on the label following his collaboration with award winning film-score composer Rainer Oleak back in January.
Pow-Low is a student of jazz star Pierre Favre, graduate of the highly acclaimed US music school 'Full Sail University', has been playing live since 13 and releasing music on vinyl since 17. He is skilled on the synclavier system, has worked at the legendary Record Plant studio in Hollywood and as in-house engineer at South Africa's Bop- Studios. He has mastered music for Peter Gabriel as well as producing huge thrash metal act Coroner and was lead singer and producer of No Religion, the world's first techno-metal band. On top of this he runs his own event Hertz, which has welcomed many big dance acts, and has been resident at various key clubs in Zurich. Now he shows another side to himself again with this new trio of tracks.
Perfectly warm deep house opener 'Ghost Note' takes its name from ghost notes, which are played very softly between the 'main' notes. They bring the groove alive particularly here, set against funky drums recorded with a vintage '70s drum set at the legendary Abbey Road recording studios in London. The track has an epic break with thunderstorm sounds and dubby drones and a jazz tinged groove that brings real colour and heart to the dance floor.
The excellent 'Cargo Cult' on the other hand is big and pumping. The singing bassline was inspired by the good old speed garage days and is overlaid with bubbly keys and drones, filtered vocals and smeared pads that make it deep and spacious. A multi-dimensional harmonic break adds another layer and the whole thing oozes class.
Last of all, the superb 'Minigrip' is a complex, multi-level minimal-techno track that took more than one year to make. It's lively and ever evolving, with squelchy bass and scattered hits that will make any dance floor restless and energetic.
This is another hugely accomplished EP of richly produced house sounds from Pow-Low.
Tracklist:
1. Ghost Note
2. Cargo Cult
3. Minigrip (remastered 2018)