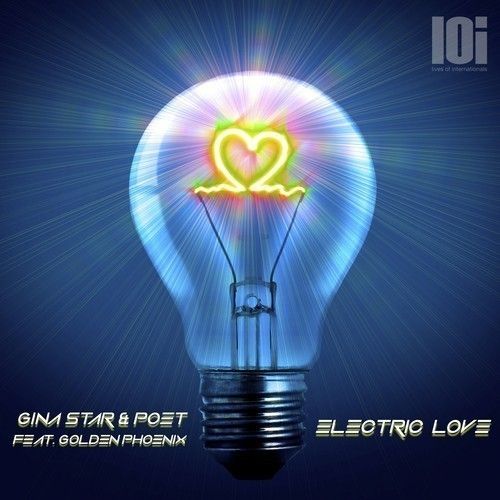 Gina Star, Poet & Golden Phoenix – Electric Love
House music's golden girl Gina Star this week lifts the lid on her latest addition to the lOi imprint 'Electric Love'. Teaming up in the studio with The Black Eyed Peas' DJ/Producer Poet and reinforced by the sultry vocals of Golden Phoenix, the trio have sculpted a fine Progressive House anthem stacked with striking chords, a pack of uplifting melodies and a lead vocal that'll be sending arms up around the world's top dance spots.
Gina's reputation for energetic and uplifting House anthems once again proves accurate, showing off her love of elevating melodies and constantly sharp production skills. With Poet on board you can guarantee a touch of class from a talent who's had his creative input on some of the most prominent pop records of this century with The Black Eyed Peas. 'Electric Love' is a full-force vocal EDM workout with a cocktail of shimmering leads, whispering pads and a distinctive Gina Star bass line that will do the damage on the floor.
Golden Phoenix ties the single together with her infectious vocal lines, which also get the Gina Star and Poet treatment with slick vocal cuts and stutters. Sister of vocal stars Natasha and Daniel Bedingfield – talent is clearly pouring from the family, which has collectively been the force behind a plethora of chart toppers around the world.
Out for release this week on lOi, we're tipping this one to make a shoot for the top end of the charts. You can hear a preview of 'Electric Love' now over at Soundcloud and be sure to get your copy over at Beatport.
AVAILABLE NOW AT BEATPORT
http://bit.ly/electric-love
Gina Star
Facebook https://www.facebook.com/ginastarmusic
Twitter https://twitter.com/DJGinaStar
Instagram http://instagram.com/djginastar
Soundcloud – https://soundcloud.com/djginastar/electric-love
Poet
Facebook https://www.facebook.com/Poetnamelife
Twitter http://twitter.com/poetnamelife
Instagram http://instagram.com/poetnamelife
Golden Phoenix
Facebook https://www.facebook.com/thegoldenphoenix
Twitter https://twitter.com/ThGoldenPhoenix
Instagram http://instagram.com/nikolabedingfield