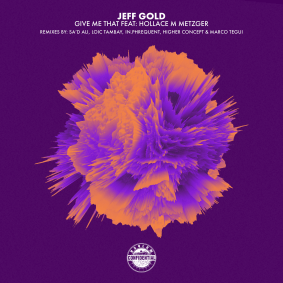 Jeff Gold - Give Me That
Canada's Jeff Gold joins Asylum Confidential alongside Hollace M Metzger this September to deliver their new single 'Give Me That', backed with remixes from Loic Tambay, Sa'd Ali, In.Prequent, Higher Concept and Marco Tegui.
As well as holding past residencies at at Venues like Stereobar Montreal and in Playa del Carmen La Santanera ( Where he was in charge of the audio as well), Blue Parrot, Canibal Royal and Diablito Cha Cha Cha among many others, Jeff Gold has also been performing at the BPM festival since 2009 and has become an official resident DJ and stage manager for the festival. As well as a partner in Spinny Grooves, Playa's only vinyl record shop, Gold has also had output on labels like Moehre Rekorder, 1101 Records, Victims Music Company, Stereo Tension, Cream Couture Records.
The mysterious 'Give Me That' kicks things off with author and poet Metzger's soft yet enigmatic vocals alongside subtle drums and airy arpeggios until Asylum Confidential regular Loic Tambay presents his remix of 'Give Me That' delivering a drum focused take with organic percussion and crunchy, underpinning drones.
Sa'd Ali is next on the remix utilising a plucky bass-line and stereo delayed atmospherics before In.Phrequent reworks this with a vacillating low end backed by powerful drums.
Up next, Higher Concept returns to the label with resonant bells and filtered pads in his remix before Peruvian DJ Marco Tegui rounds off the package with a slower take on the track offering robotic vocals, heavily reverberated synth stabs and crisp hats.
Jeff Gold feat. Hollace M Metzgers' 'Give Me That' drops on Asylum Confidential on 14th September 2018.
https://www.facebook.com/4djjg/
https://www.facebook.com/Metzgerpoetryandcollaborations/
https://www.facebook.com/Asylumconfidential/
https://www.facebook.com/LoicTambaySounds/
https://www.facebook.com/Higherconcept/
https://www.facebook.com/djmarcotegui/
Tracklist:
1. Give Me that
2. Give Me That (Loic Tambay Remix)
3. Give Me That (Sa'd Ali Remix)
4. Give Me That (Sa'd Ali Remix – In.Phrequent Rework)
5. Give Me That (Higher Concept Remix)
6. Give Me That (Marco Tegui Remix)