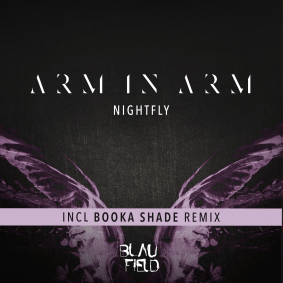 Arm In Arm - Nightfly
Blaufield present the debut single from Australia's Arm In Arm this September entitled 'Nightfly' with a remix from label heads Booka Shade.
Eliza Jacobs and Luke Moore-Martin make up Arm In Arm, a duo from Melbourne. After meeting when U.K born Moore-Martin first arrived from London, they instantly connected over their love for music with soul. When Booka Shade discovered Arm in Arm, they were attracted to their edgy sound which evoked unexpected emotional nuance thanks to their wide range of influences including techno, Balearic beat, classical, trip-hop and electronica.
The extended mix of 'Nightfly' commences the package with modulated top lines, a plucky bass line and hypnotic, yet hooky vocals before Booka Shade offer up their remix of 'Nightfly' contrasting the original by utilising filtered and chopped up vocals, a pulsating low end and an amalgamation of synth blips. Rounding off is the radio version of 'Nightfly' which delivers a shorter mix of the original and brings a well refined close to the package.
Arm In Arm's 'Nightfly' drops on Blaufield on 7th September.
https://www.facebook.com/BlaufieldMusic/
https://www.facebook.com/bookashade/
Tracklist:
1. Nightfly(ExtendedMix)
2. Nightfly(BookaShadeRemix)
3. Nightfly(RadioVersion)