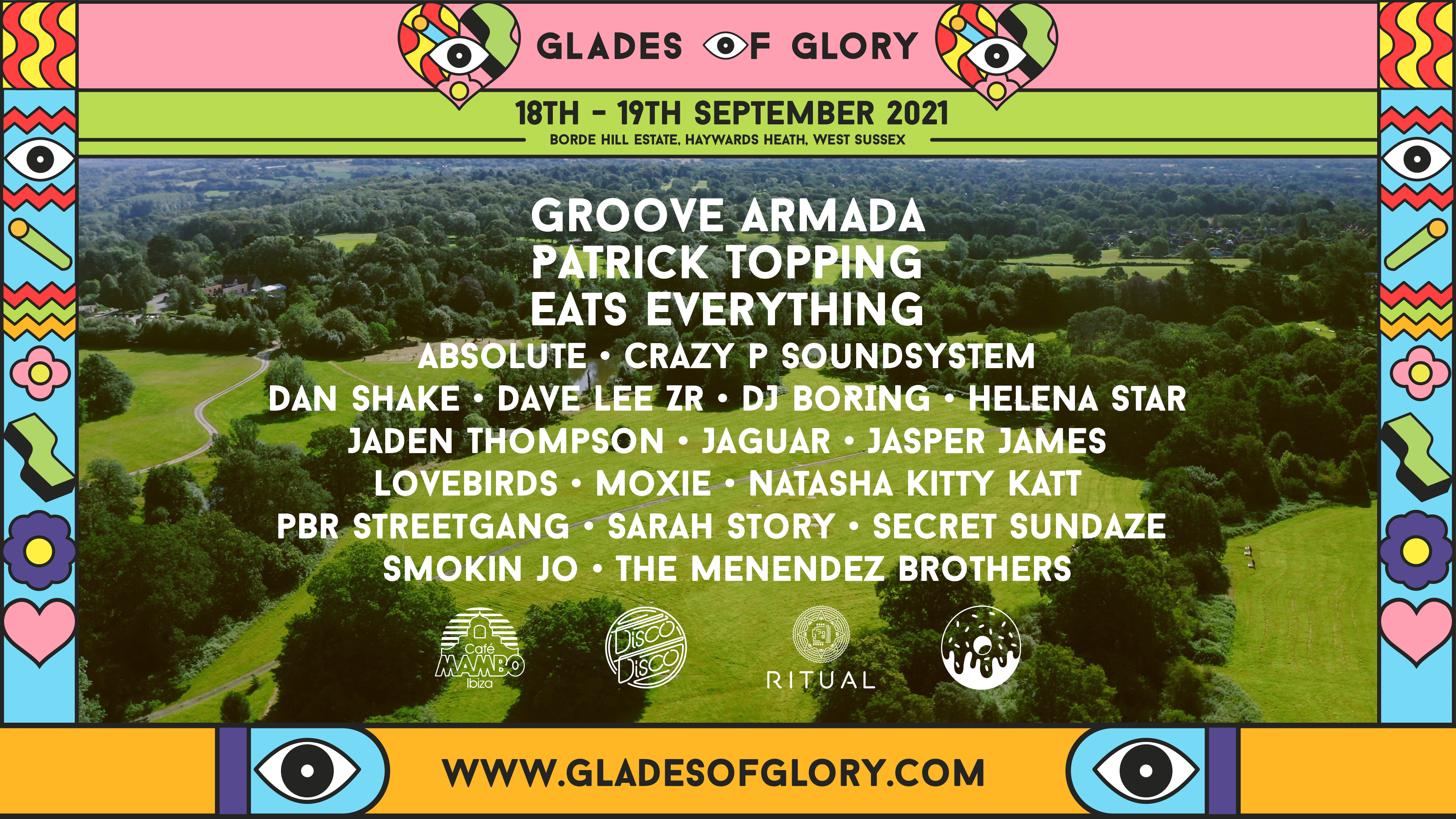 Glades of Glory Festival announced – Tickets on sale now!
Set against a backdrop of outstanding natural beauty within a 200-acre historic estate, Glades of Glory features performances from some of the finest selectors and in-demand live acts.
Taking place at Borde Hill, Haywards Heath across the weekend of Saturday 18th and Sunday 19th September, Glades of Glory promises to redefine what's expected of a boutique electronic music festival.
Headline sets are scheduled from influential dance act Groove Armada (DJ Set) (Saturday) and House and Techno pioneers Patrick Topping and Eats Everything (both Sunday).
As Groove Armada, duo Andy Cato and Tom Findlay pushed to the forefront of the scene in the '00s, enjoying crossover success with singles such as I See You Baby and Superstylin' paving the way for dance music to take over the world.
A generation later, and label owners of their respective Trick and Edible imprints, Patrick Topping and Eats Everything represent the current wave of underground superstars. Each regularly sells-out club nights and headline stages at international festivals.
Saturday also sees boundary-pushing band Crazy P Soundsystem, prolific DJ/producer Dave Lee ZR, long-serving NTS Radio hostess Moxie and chip-off-the-old-block Jasper James play, with Café Mambo and Disco Disco on board as stage hosts.
Meanwhile, Sunday will be graced by the self-deprecating DJ Boring, hitmaker Jaden Thompson and exciting young Radio One talents Sarah Story and Jaguar. Champions of the rooftop soiree, Ritual, and the moorish Appetite look after the stages.
The full line-up can be viewed below.
… and where will this delectable assortment of talent be playing?
We could not have hoped to secure a more idyllic spot for our inaugural edition.
The Borde Hill site is a postcard of natural lakes, winding woodland trails, botanical gardens, scattered copses, juniper meadows and rolling Sussex countryside, featuring awe-inspiring views across the county's rural High Weald.
This stunning locale will help visitors relax, enjoy the fresh air and realign their senses in one with nature. For Glades of Glory is not only a music festival, but an opportunity to reconnect with the earth and our primal instincts, away from the distraction of modern life.
This eco-friendly event vows to leave no noticeable trace, minimise our footprint and invites attendees to adopt our holistic mindset.
Despite being a mere 45-minute fast train from London Victoria and London Bridge, Glades of Glory will captivate, invigorate and heighten the senses, whilst fostering a community spirit and sustainable outlook.
Join us for a weekend of first-class music, an informed crowd of music lovers and carefully selected food vendors, catering to all dietary requirements and lifestyles.
Day tickets start from £25 (+BF) and weekend tickets from £45 (+BF) and can be purchased from our ticketing partner, Skiddle.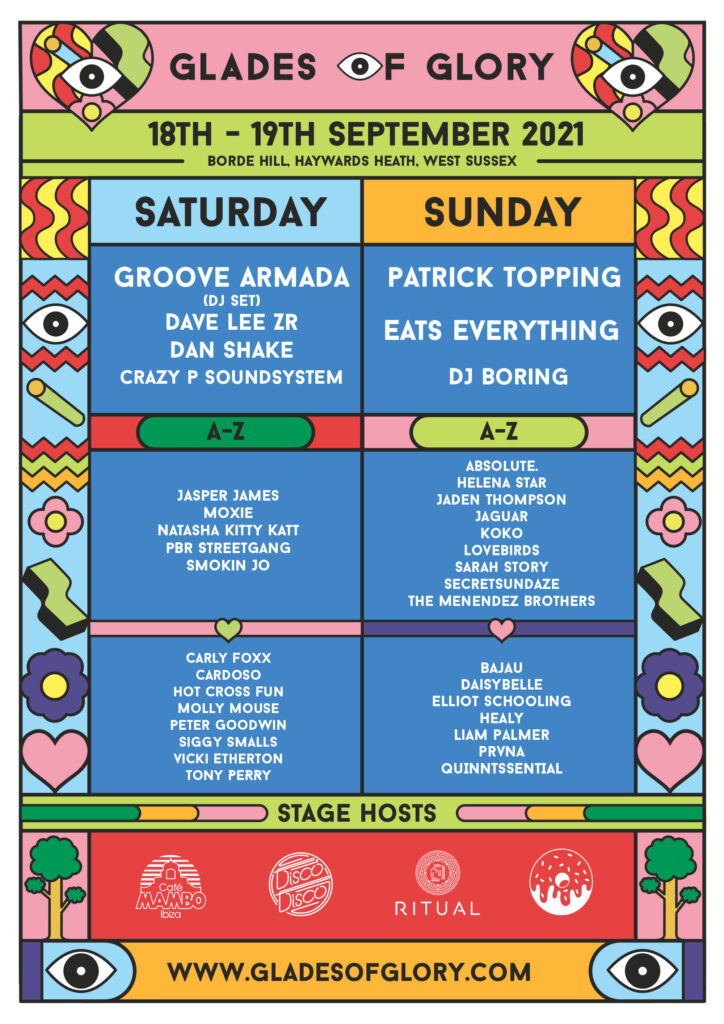 Groove Armada (DJ Set)  // Patrick Topping // Eats Everything
Crazy P Soundsystem / Dan Shake / Dave Lee ZR / DJ Boring
(A-Z)
Absolute. / Bajau / Carly Foxx / Cardoso / Daisybelle / Elliot Schooling / Healy / Helena Star / Hot Cross Fun / Jaden Thompson / Jaguar / Jasper James / Liam Palmer / Lovebox / The Menedez Brothers / Molly Mouse / Moxie / Natasha Kitty Katt / PBR Streetgang / Peter Goodwin / PRVNA / Sarah Story / secretsundaze / Siggy Smalls / Smokin Jo / Quinntssential / Vicki Etherton