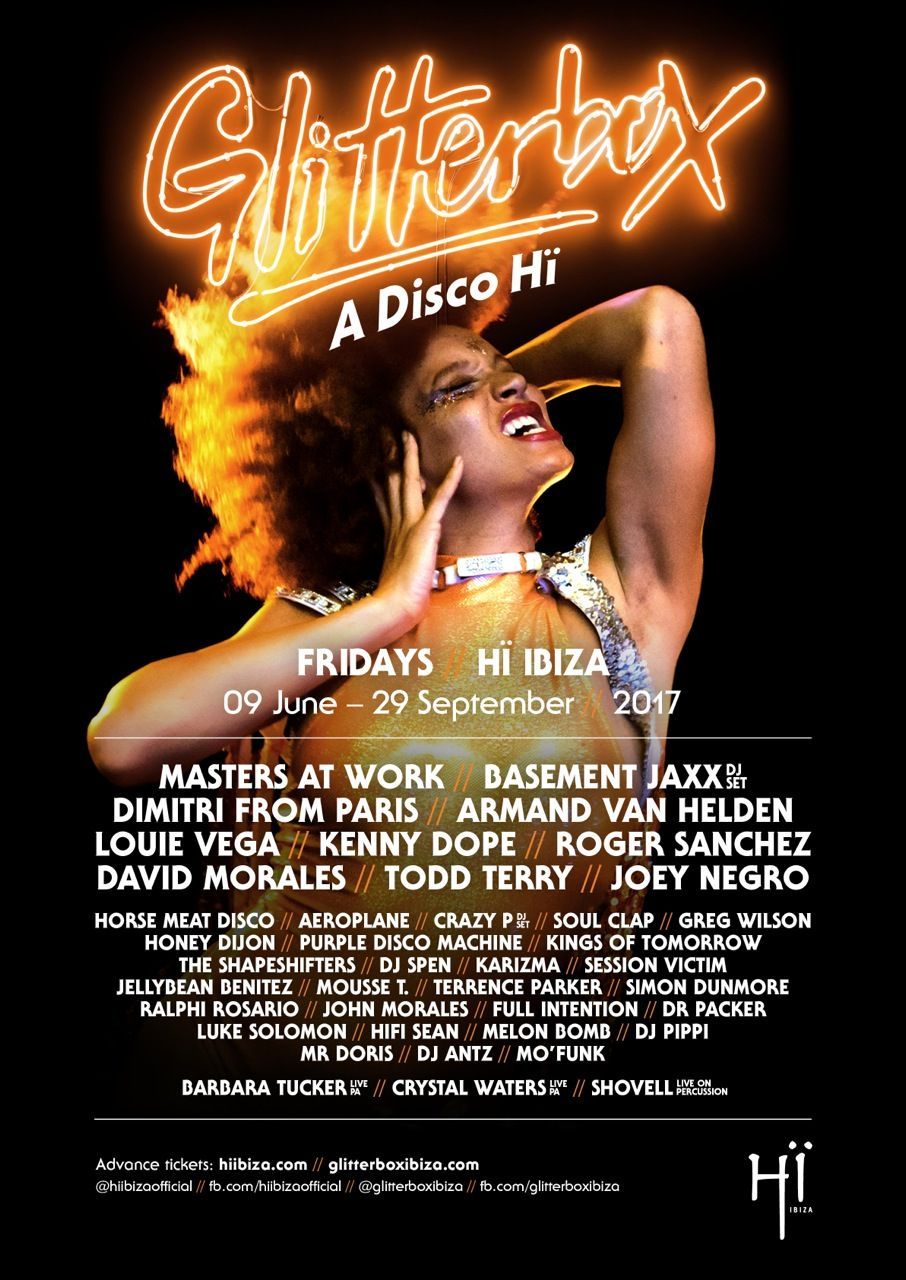 Glitterbox announces Ibiza 2017 weekly line-ups
Glitterbox has revealed the weekly line-ups (see below from page 3) for the Ibiza 2017 season and new residency at Hï Ibiza, the brand new superclub by Ushuaïa Entertainment. The club formerly known as Space will be elevated to new heights, with a fresh new look and the most advanced sound and technologies on the island. From the club's incredible opening last weekend through to September, Hï Ibiza will play host to the finest selectors from the global electronic music scene.
Every Friday from 9 June to 29 September (excluding 4 August), Glitterbox will transform Hï Ibiza with state-of-the-art production, their biggest line-ups to date, and the now infamous Glitterbox dance crews out in force. These weekly extravaganzas will feature an expertly crafted blend of contemporary, obscure and sought-after disco and house collectables, alongside anthems and classics.
The DJ line-up for Glitterbox's new Ibizan home features an unprecedented mix of house music luminaries and underground talent, including Masters At Work, Basement Jaxx (DJ Set), Dimitri From Paris, Armand Van Helden, Louie Vega, Kenny Dope, Roger Sanchez, David Morales, Todd Terry, Joey Negro, Horse Meat Disco, Aeroplane, Crazy P (DJ Set), Soul Clap, Greg Wilson, Honey Dijon, Purple Disco Machine, Kings of Tomorrow, The Shapeshifters, DJ Spen, Karizma, Session Victim, Jellybean Benitez, Mousse T, , Simon Dunmore, Ralphi Rosario, John Morales, Full Intention, Dr Packer, Luke Solomon, Melon Bomb, Hifi Sean, DJ Pippi, Mr Doris, Antz, Mo Funk, Yam Who? Simon Morell, and Andy Baxter. Live PA's will come from Barbara Tucker, Crystal Waters, and Heather Small (Voice of M People) plus Shovell Live on percussion.
Setting the tone for Glitterbox's fourth season on the island, the opening party on 9 June features one of the biggest house music line-ups Ibiza has seen in years, with headliners Armand Van Helden, David Morales, Dimitri From Paris, and Todd Terry, joined by Glitterbox's Simon Dunmore and DJ Pippi, with a very special live PA from Barbara Tucker (returning to Glitterbox Ibiza after her now legendary performance in 2016).
Glitterbox is one of the world's most flamboyant, hedonistic parties, where the world's foremost DJs, true masters at work renowned for their musical selection and turntable technique, lay down a soundtrack spanning 40 years of joyful, uplifting dance music. In a throwback to the glory days of Disco and House, the club experience is enhanced by dancers and performers, but the crowd are the true stars of the show – open-minded, passionate, and encompassing all ages, colours, genders and sexual orientations.
In 2016, Glitterbox reached a new high; Fridays at Space Ibiza were acknowledged to be up there as the very best nights on the island. Unforgettable moments were made; there were impromptu dance-offs on the floor, Barbara Tucker jammed with Louie Vega, and standout performances came from Basement Jaxx, Todd Terry, Dimitri From Paris, Horse Meat Disco and many more. This summer, with an entire venue to play with, Glitterbox in Ibiza promises to be bigger and better than ever before.
"Every Friday you can expect an event with an extrovert personality – an extravaganza! A party that screams "good times". It's where people come together to celebrate incredible dance music from across the decades, provided by DJs that know how to rock the discotheque. It's flamboyant, spiritual and hedonistic. The ultimate dancefloor escape."
"We chose Hï for Glitterbox's Ibiza residency because it is an incredible proposition. It's the new hot spot on the island. The people involved totally believe in the Glitterbox concept, which is still unique to the island." Simon Dunmore
Visit glitterboxibiza.com for more information.
GLITTERBOX IBIZA WEEKLY LINE-UPS
09 June (Opening Party)
Dimitri From Paris
Armand Van Helden
David Morales
Todd Terry
Simon Dunmore
DJ Pippi
Barbara Tucker (Live PA)
Shovell (Live on Percussion)
Savage
Jonjo Jury
Joshua James
Drama from Lucy Fizz
16 June
Roger Sanchez
Joey Negro
Horse Meat Disco
Soul Clap
The Shapeshifters
Melon Bomb
Savage
Guy Williams
Jonathan Bestley
23 June
Masters At Work
David Morales
Aeroplane
John Morales
Antz
Barbara Tucker (Live PA)
Melon Bomb
Simon Morell
30 June
Basement Jaxx (DJ Set)
Roger Sanchez
Jellybean Benitez
Ralphi Rosario
Simon Dunmore
Hifi Sean
Crystal Waters (Live PA)
DJ Pippi
Antz
07 July
Roger Sanchez
Kenny Dope
Todd Terry
Horse Meat Disco
Honey Dijon
Luke Solomon
Savage
Jonjo Jury
Joshua James
Drama from Lucy Fizz
14 July
David Morales
Joey Negro
DJ Spen
Karizma
Purple Disco Machine
Melon Bomb
DJ Pippi
21 July
Dimitri From Paris
Roger Sanchez
Todd Terry
Simon Dunmore
Aeroplane
Mr Doris
28 July
Louie Vega
David Morales
The Shapeshifters
John Morales
Melon Bomb
Barbara Tucker (Live PA)
Antz
11 August
David Morales
Dimitri From Paris
DJ Spen
Karizma
Dr Packer
Mr Doris
Heather Small (Live PA)
Savage
Jonjo Jury
Joshua James
18 August
Masters At Work
Joey Negro
Horse Meat Disco
Kings Of Tomorrow
Melon Bomb
DJ Pippi
Mr Doris
25 August
Basement Jaxx (DJ Set)
Todd Terry
The Shapeshifters
Purple Disco Machine
Session Victim
Yam Who?
Melon Bomb
Andy Baxter
01 September
Kenny Dope
Todd Terry
Joey Negro
John Morales
Full Intention
Mo' Funk
Savage
08 September
Dimitri From Paris
Aeroplane
Mousse T.
Simon Dunmore
Melon Bomb
Mo' Funk
+more TBA
15 September
Roger Sanchez
David Morales
Greg Wilson
Horse Meat Disco
DJ Pippi
Melon Bomb
Antz
22 September
Basement Jaxx (DJ Set)
Todd Terry
Joey Negro
Horse Meat Disco
Crazy P (DJ Set)
The Shapeshifters
Mr Doris
Mo' Funk
29 September (Closing Party)
Louie Vega
Dimitri From Paris
Roger Sanchez
Session Victim
Simon Dunmore
Barbara Tucker (Live PA)
Melon Bomb
DJ Pippi
GLITTERBOX LONDON
After a run of sold out events at Ministry of Sound, Glitterbox has revealed an unprecedented line-up for their next party in London at Ministry of Sound on 1 July. Alongside Glitterbox mastermind and resident Simon Dunmore and The Shapeshifters will be dance music royalty Jellybean Benitez and Ralphi Rosario headlining, plus Hifi Sean, Nadia Kasia and a very special live PA from Crystal Waters.
The well-loved stars of the show, the Glitterbox dancers, will be performing and joining the crowd to dance throughout the party, while Simon Dunmore and new-school addition Nadia Kasia heat things up in Ministry's 103 bar. Meanwhile rare grooves, soul funk
About Hï Ibiza
Hï Ibiza, the club formerly known as Space, unites the highest standards of music and entertainment, bringing world-class music experiences to a club designed with the dancer in mind. This state of the art club will showcase the most exciting names in electronic music throughout the summer, from the biggest stars in the scene to the leading lights of the underground, continuing the island's legacy as the party capital of the world.
"Hi" is a small word that can be the beginning of a meaningful conversation or the start of a beautiful friendship that can lead to a bigger world of discovery. "Hi" is a welcome to a new era in Ibiza.
The journey begins with 'Hï Ibiza'
Glitterbox at Hï Ibiza
Every Friday from 9th June – 29th September (except 4th August)
Tickets available at www.hiibiza.com
Connect with Glitterbox
Website | Facebook | Twitter | Instagram | YouTube
Connect with Hï Ibiza
Website | Facebook | Twitter | Instagram | YouTube