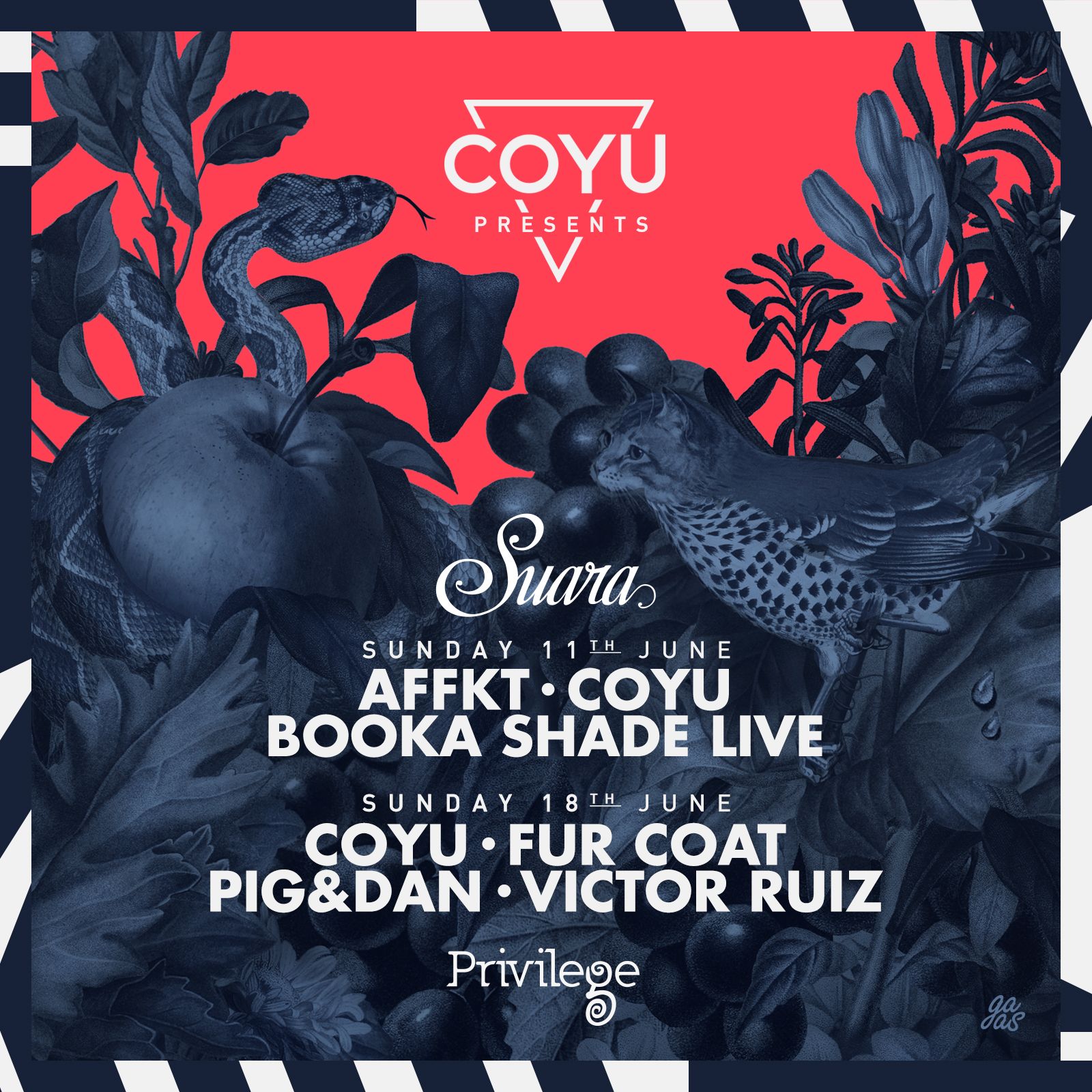 Lineup confirmed for the next two Suara events at Privilege Ibiza
Coyu and his renowned feline brand Suara, landed at Privilege Ibiza last Sunday as expected, with an excellent 'Opening Fiesta'. Aftermovie Suara Opening @Privilege
As Coyu says about this new season in the intro of the video "we will try to offer a quality product, an underground product, made from the heart and by artists and people who love music " and by this we stand.
The next two Suara events identify with his words. The line-ups for Sundays 11th and 18th June are synonymous with class and passion for electronica.
Sunday June 11th:
COYU, BOOKA SHADE live, AFFKT
The duo Booka Shade will be joining Coyu for his second Suara date at Privilege in addition to presenting their very recent and acclaimed new album "Galvany Street" (Blaufield Music, 2017). AFFKT will also be gracing the decks on the night, after accumulating prizes and Recognitions thanks to its last LP "Son of a Thousand Sounds" (Sincopat, 2016).
Sunday, June 18th:
COYU, FUR COAT, PIG & DAN, VICTOR RUIZ
This will be for sure one of the busiest and most intense Suara Sundays. Joining Coyu in the booth will be Venezuela´s Fur Coat, who are a step closer to launching their own label (Oddity) and are on everyone's lips thanks to the new remix made to Slam, pioneers of British techno. Alongside them are tech-house masters Pig & Dan, recognized internationally thanks to their promoters and releases for Soma, Bedrock, etc. And of course, Victor Ruiz, the Brazilian techno artist whose talent brought him to the forefront of the music scene at the moment. His latest works for Moby ( Suara), Oliver Huntemann or Christian Smith have only consolidated his reputation by leaps and bounds.
Info & Tickets
www.privilegeibiza.com
Follow us
Facebook PrivilegeIbiza
Instagram privilegeofficial
Twitter privilege_ibiza