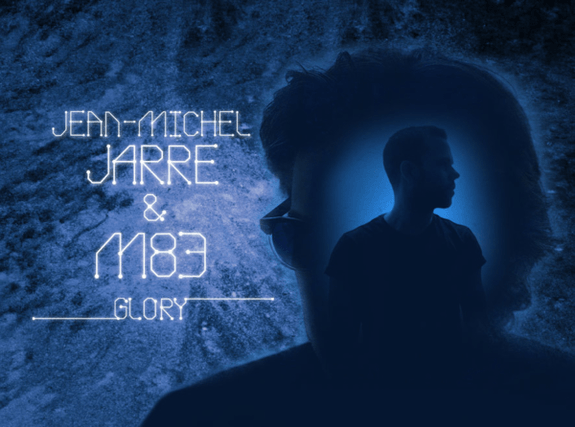 Jean-Michel Jarre & M83 - Glory
"Glory" is the second track to be released from Jean-Michel Jarre's upcoming studio album, following "Conquistador," the Techno-focused collaboration with Gesaffelstein. This time around, the electronic music legend turns to another young French luminary, Anthony Gonzalez of M83, for a soaring and heartfelt anthem.

Jarre built "Glory" from the ground-up around Gonzalez' powerful voice. Full of uplifting synthesizers and plucked strings and bolstered with the sampled sounds of marching boots, "Glory" shares an epic sense of scale with recent M83 material. Arranged with Jarre's expert touch, however, it builds up naturally and finishes with a climax that feels huge even by that act's standards.

As the mind behind M83, Gonzalez is responsible for 2011's blockbuster "Midnight City" and the acclaimed LP Hurry Up, We're Dreaming. Known for his theatrical style, Gonzalez has a knack for infusing rock band dynamics with electronic elements—a long-time obsession that started back when he saw Jarre on TV as a child. "He was playing with his synths and I was blown away with the sound and the look of his synthesizers," Gonzalez says. "It looked so futuristic to me, I was just hooked by the melodies and the power of his music right away."

Jean-Michel Jarre, of course, is one of electronic music's formative figures, releasing his groundbreaking album Oxygéne in 1976 and remaining a pioneering force in the scene through the decades after. He's been a major influence on artists of all stripes, from techno producers down to electronic-driven bands like M83, whose grandiose vocal melodies attracted Jarre in the first place. "I really wanted him to sing because what I like in his vocal is that he uses his voice not only like a singer, but like somebody who's using an instrument," Jarre says. "I love the ambiguity between natural sound and how he processes the vocals."

Blending Jarre's signature electronic composition with M83's rock opera grandeur, "Glory" is the second chapter in a long and comprehensive new project that will expand on Jean-Michel Jarre's already considerable legacy in electronic music.