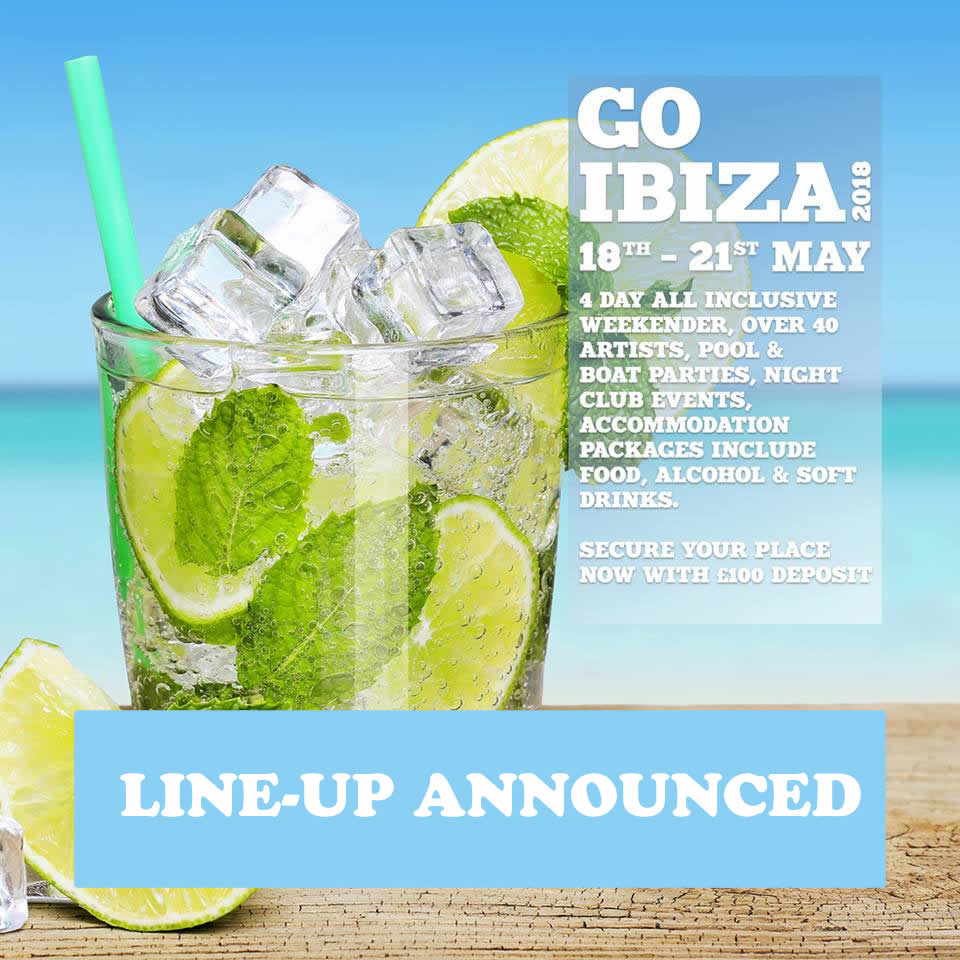 GO Ibiza 2018 Line-up Announcement!
After last year's amazing launch, we are super excited to give you the second edition of Go Ibiza, as we fly back to the magical island with another four day long weekender from Friday 18th May to Monday 21st May 2018.
We will be returning home to The Beach Star Studio and Apartments located in San Antonio Bay next to Punta Xinxo beach, with another world class line up of artistes.
The hotel has a contemporary feel so you can get your groove on during the day with four pool parties, boat parties and club nights events with only the highest standard of quality music we all love.
Music policy Soulful, Deep, Uplifting House music fused with Disco Classics, Soul, Rare Groove, Funk & Boogie!
WHEN BOOKING YOUR FLIGHTS REMEMBER:
• Check in Friday 18th May 2018
• Check out Tuesday 22nd May 2018
We have also made it easier for you to enjoy GO Ibiza by adding the luxury of an all-inclusive deal which will include breakfast, lunch and dinner together with alcohol and soft drinks between the hours of 08:30 am and 23:00 pm
Entry to the pool parties and club events are free to all inclusive or day pass holders, boat parties are chargeable.
To make sure you enjoy the sophisticated sounds around the pool every day, we have teamed up with Void Acoustics one of the best in achieving a true blend of sonic excellence to guarantee the very best in sound around the pool area.
LINE-UP:
Joey Negro
Dj Spen
Julie Mcknight Live
Josh Milan Live
Barbara Tucker Live
Karizma
Terry Hunter
Grant Nelson
John Morales
Bobby & Steve
Anane Vega
Ralf Gum
Dj Spinna
Dj Rocco
Zephrain Saint
Opolopo
Ian Friday
Nathan Adams Live
Paul Trouble Anderson
Sean Mccabe
Groove Assasinn
Phil Asher
Davide Fiorese
Mike Risk
Dj Bigger
Sy Sez
Hallex M
Mark Stone
Duo Rhythm
Martin Lodge
Funki P
Nacho Larache & S-brid
Sammy Confunktion
Lloyd Life
Paris Cevette
Sol Brown
Colin Williams
Buzzhard
Kev Chase
Selly J
Graham P & Souldiva
Richie Smooth
Paul Morrissey
Yooks
Leigh Howlett
Freaky Reidy
EVENT INFO:
• 4 days all inclusive accommodation
• Over 30 artist
• Pool parties
• Boat parties
• Night club events
• Free club transfers
• Accommodation Includes food/soft drinks and alcohol
• Single, double or triple occupancy available
• Secure your place now with £100 deposit
ACCOMMODATION INFO:
• Beach Star – Sold out in 4days
• Sol House – Limited rooms available.
• The Fiesta Milord – Limited rooms available.
• Riviera Hotel – Limited rooms available.
LINKS:
• Book Now: http://bit.ly/GOIBIA2018bookNOW
• GO Ibiza event page: http://bit.ly/GOIBIZA2018
• Full Info Main website: http://www.grooveodyssey.com