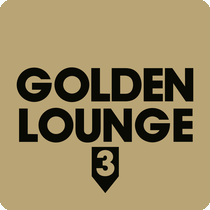 Golden Lounge Vol. 3
Here comes the double CD "Golden Lounge 3". The first two volumes of this series were highly rated by the press and made music lovers all around the globe very happy, in the relaxed way. Right in time for the winter season, we bring you this musical collection that will warm your hearts and souls and tickle your senses. You can safely close your eyes and dive into the music. Over 21/2 hours of musical relaxation are guaranteed.

CD1 begins with an ode to sunshine by 77 Karat Gold from Tokyo. Lisbon Kid aka Danny de Matos and Rui da Silva, take us to the Balearic Islands then. Followed by biza resident Chris Coco and two legends of the white island Jose Padilla and DJ Pippi. Pegasus Warning from Brooklyn is on board, Nayre Wiclef, Jamon and Edground from Brazil, Juan Laya, Jorge Montiel and Andre Espeut from London, remixed by Dave Allison from Montreal. American house superstar Andy Caldwell represents with his acoustic classic tune from 2002. Deep House superstars The Rurals are on this silver disc with a funky slow jam. Afro beat superstar Sunlightsquare delivers a superb remake of Little Louie Vega´s / Elements of Life tune "Into my life". The Belgian deep house veteran Sven van Hees is on board, as well as Chris Read & Pugs Atomz feat. Isis Rose & Awdazcate, who bring a little laidback hip hop flavour, while J-Felix brings the funk. The first disc closes with love anthem "Free" by the one and only Lovebirds.

CD 2 keeps the deep relaxation. It begins with "Sunset Chill" by Velvet Dreamer-Satoshi Fumi from Japan takes us into deeper atmospheres, while Dreamweavers take us into mystic territories. Songs from artists like Michael E, Schwarz & Funk, Saux, Giuseppe Mancuso, Haldo, Pat Lezimo, Roberto Bronco and Bonnie & Klein follow. The Australians Jad & The Ladyboy are on the second silver disc, as well as Till von Sein featuring the Black 80s and JKriv & Lou Teti.
Bob Moses closes CD2 with a laidback deep house jam. This compilation was compiled and smoothly mixed by Henri Kohn, approved master of laidback grooves.

"Golden Lounge 3" brings you over 150 minutes acoustic relaxation.