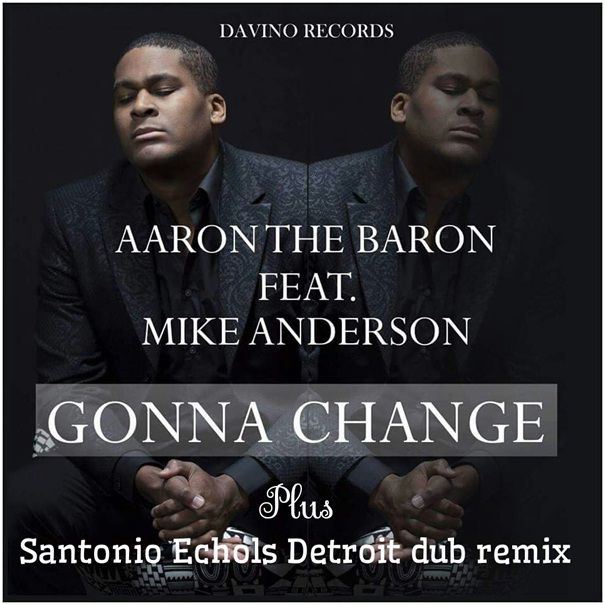 Aaron The Baron Feat. Mike Anderson - Santonio Echols Detroit Dub Remix - Gonna Change
Industrious DJ and producer Santonio Echols has been at the top of his game for the last 28 years and is seeking to continue his ongoing streak of top-notch material with his latest Detroit Dub remix of Aaron The Baron's 'Gonna Change'. Released on the 4th of December, 2015, this project is already making big waves on Beatport's Reggae/Dub charts, adding feats to Santonio Echols' brimming resume.
As one of the first generation of Techno producers to come out of Detroit, Santonio Echols has made a big impact with quality projects such as: 'Soul Invasion', 'Warpaint Remix', 'Gracious Groove', 'Jazz Intrusion', 'Retrospective EP' and 'Sinner Man EP' and is continuing his ascension with his latest Mixcloud mix series 'Detroit Podcasts'. Grabbing the attention of the Detroit scene with his unique House and Techno flavours, Santonio has been part of the legendary Reese & Santonio duo, whilst also boasting collaboration with the likes of: Nikolaos Moiré Patterns, Clemens Neufeld, Oliver Lieb, Combinator, Jonas Asp, Duane Evans, Orlando Voorn, MoBlack, Dj Deep, Greg Stafford, Claude Young, Blake Baxter, Eddie Fowlkes, Raquel Roberts, QuWonna Toney, Mike Anderson and Robert Doubledee Mills amongst others.
Santonio Echols' 'Gonna Change Detroit Dub Remix', boasts his own, unique Detroit style inspirations whilst spicing things up with a dash of Deep House and Minimal Techno sounds. Characterised by an infectious House style groove, deep, Funky bass-lines, catchy melodies and mesmerising vocals and effects, this rendition is surely a wonderful addition to this EP, shining amongst the works of stellar names like: Lesny Deep and Jules Wells.
Santonio Echols has been on the radar of some of the world's finest labels along the years, inking deals with: Tresor, Detroit Dancer, London FFrr, KMS, Decks Tracks, Opilec Music, React Records, Serious Grooves, D Records, Soiree Records, Random Noise Recordings, M.I.D Records, Express Records, Siren, Chapter 2 Recordings and Jambalay Records to name a few. Through his fresh remix of 'Gonna Change', he is now adding another outstanding name to this list – Davino Records. Established in 2011, the Austrian imprint has become a leading brand for soulful music, directed by the refined musical vision of its founders, STJ and Aaron The Baron. Given Santonio Echols' extensive experience and consistent quality, he is certainly a heavyweight addition to the Davino family and there is certainly much more yet to come from this fruitful collaboration.
Check out 'Gonna Change (Santonio Echols Detroit Dub Remix)' on SoundCloud
https://soundcloud.com/santonio-1/aaron-the-baron-feat-m-andersonsantonio-echols-detroit-dub-remix-gonna-change
Available on Beatport
http://pro.beatport.com/track/gonna-change-santonio-echols-detroit-dub-mix/7342017
Santonio Echols Online
https://www.facebook.com/SantonioEcholsDetroit
https://twitter.com/SantonioEchols
https://soundcloud.com/santonio-1
Davino Records Online
http://www.davinorecords.com
https://www.facebook.com/davinorecords
https://soundcloud.com/davinorecords
https://www.youtube.com/user/davinorecords