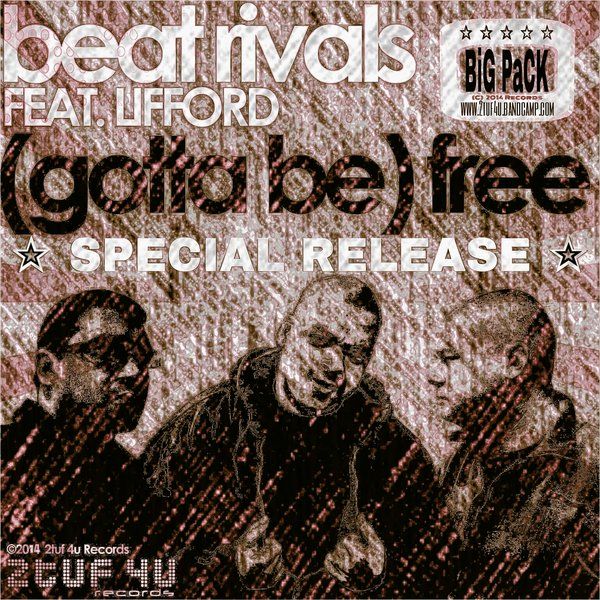 (Gotta Be) Free – Beat Rivals ft Lifford
The 2TUF4U label was created in 2002 by Karl "Tuff Enuff" Brown following his "Tuff Jam" days with Matt Jam Lamont. Acclaimed DJ and production duo Karl and Matt were pioneers on the UK garage scene in the 1990's and also presented a show on London's Kiss FM.
(Gotta Be) Free was originally released on the 2TUF4U label in September 2012, with a follow up second package in October 2013. This exclusive 2014 mammoth compilation of 40 mixes has been especially compiled for the debut of the 2TUF4U label on Traxsource, and it comprises of the best of the original two packages along with an impressive stack of brand new remixes, available exclusively for the first time.
The track is the brainchild of London production duo Beat Rivals, coupled with the rich vocals of accomplished singer Lifford Shillingford. Beat Rivals – KrazyK and Soulshy – have been producing music together for two decades and have developed their skills with the assistance and mentorship of Karl Brown . The Beat Rivals trademark production packages always include an individual mix from each Beat Rival combined with at least one joint mix, resulting in a selection of sounds which complement each other while reflecting the individual styles of each producer.
Lifford is most famous for featuring on Artful Dodger's "It's all about the Stragglers" album in 2000, as the vocalist on two tracks – "Something" and the top ten hit "Please Don't Turn Me On". Lifford is currently working on a solo album which reflects on his personal experiences, and he continues to perform and write quality music in a variety of genres. He has also featured on a second Beat Rivals track "If I Could" which was released in April 2014.
(Gotta Be) Free is an upbeat dance track with a dynamic beat and soulful keys. The lyrics convey a positive and philosophical message about doing your own thing in life and not allowing yourself to be manipulated or pushed around by others. Lifford delivers this message convincingly with his melodic, honey-toned, soulful vocals.
The current re-release package of 40 mixes spoils us all for choice and includes contributions from established leading producers such as Booker T, Mike Sharon and Japan's Carpainter.
Lovers of techno and electronica will enjoy the varied synth sounds of the CJ Reign Broken Dub, Ayklogic and Call Me Jack remixes, with Brighton boy – One Dark Martian, and Prescribe Da Vibe providing exquisite broken beat versions.
The Deep Dub mix has a heavy swinging beat reminiscent of dub reggae, while the unique Benbo Bass mix has a big busy sound which will rouse the dance crowd.
Deep and luscious offerings include Undertone's Stuck in the Groove mix, DJ Nav's underground mix and Middle-East based impresario – Mike Sharon's divine mesmerising vibe.
For the soulful faithful, Live Groove's mix brings a soulful jazzy edge, while the gorgeous Carpainter Remix is a skilled jazzy take with soft organ stabs, and CJ Reign's Classique Vocal mix is an uplifting soulful groove. London based ace – Booker T's skills shine through with his Vocal Reconstruction refix and its great positive club vibe.
GE's Not Having It dub has a hypnotic dance beat that will take you to the zone, while Sweeter Groove's remix has the makings of a dance anthem with its classic vocal and stomping house beat. Manchester maestro Danny Phillips brings an energetic, crowd pleasing blend with woodwind touches while the Broken Species afro groove touches the other end of the spectrum with its sexy afro-salsa beat and maracas. Hewitt & Brown treat us to even more afro rhythms with their Raw Filter mix.
Everybody will have a favourite in this package, and some will find it hard to pick one clear winner. It just goes to show how many uplifting and melodious flavours can be created from one good quality track, and (Gotta Be) Free certainly proves that there are many facets of this song to explore that will appeal to lovers of Soulful House music right across the globe.
(Gotta Be) Free – the Ultimate Remix Package from 2TUF4U, available exclusively from Traxsource on 11 August 2014.
YouTube link: https://www.youtube.com/watch?v=yrjxZ90pa5k
By Sue McDonald (Twitter: @SueVMcDonald; Blog: http://casaprofunda.wordpress.com/)
© Sue McDonald 2014. Unauthorized use and/or duplication of this material without express and written permission from the author and/or owner is strictly prohibited. Excerpts and links may be used, provided that full and clear credit is given to Sue McDonald with appropriate and specific direction to the original content.