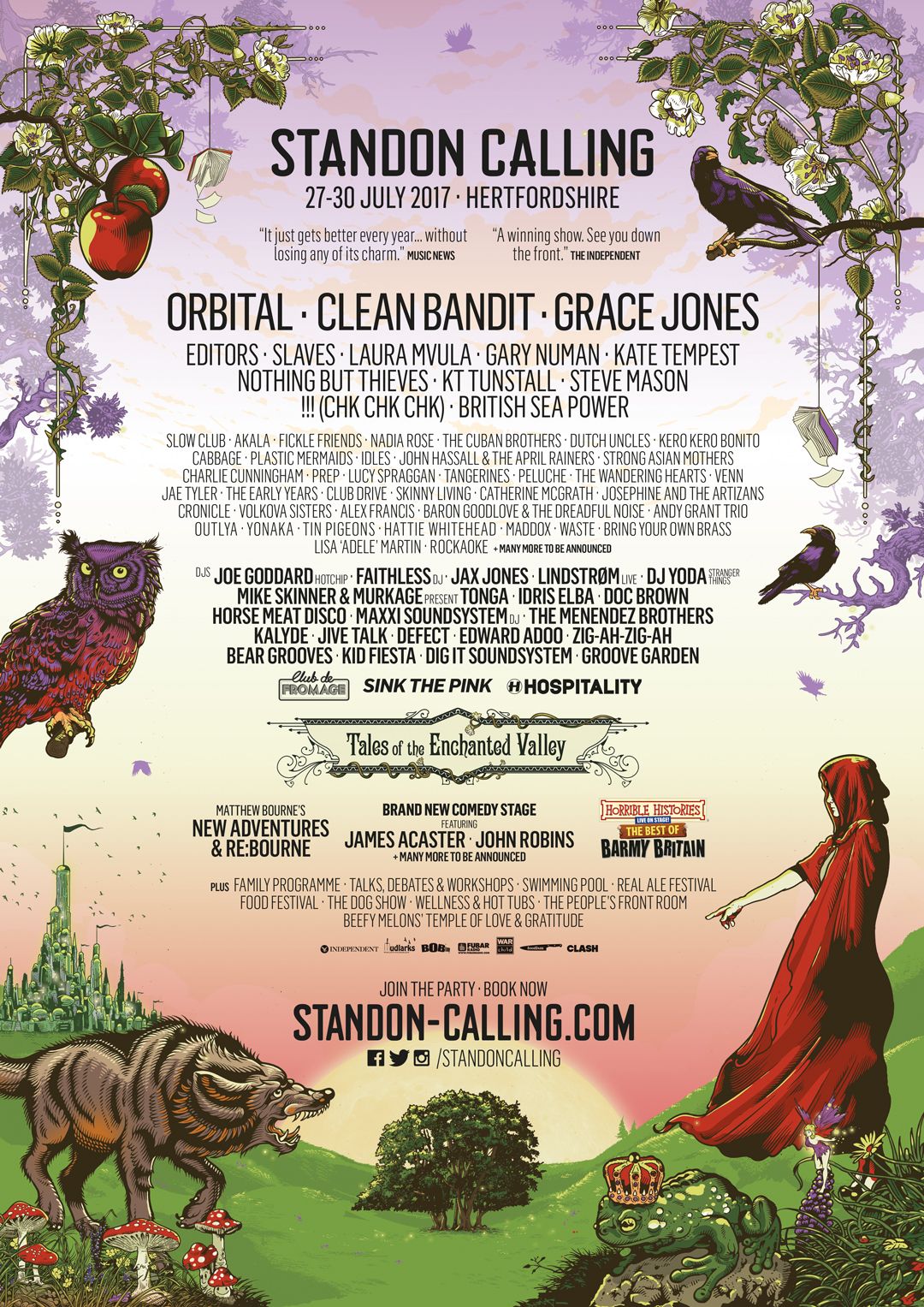 Grace Jones Announced As Special Sunday Night Headliner For Standon Calling 2017
Already boasting an incredible array of entertainment across the festival weekend, Standon Calling is delighted to announce the incomparable Grace Jones as the very special Sunday night headliner for 2017.

In what is set to be a rare opportunity to delve into the mind of one of the world's true cultural superstars, Grace Jones' set at Standon Calling is destined to be a true landmark moment. Celebrating fashion, artistry and a sense of extravagance not seen in modern pop, her influence remains as powerful as ever, and is an immeasurable force of nature in modern culture. One of the first artists to vigorously morph and bend genres to her will, Jones' landmark release 'Slave To The Rhythm' remains one of the most critically revered and beloved albums of all time – straddling concept, style and glamour into a mix that's not been bettered to this day. With 2017 marking 40 years of recording and releasing music, Grace Jones' headline set at Standon Calling is set to be one that'll be talked about for years to come.

Bringing together a unique weekend of irresistible fun, extraordinary experiences and unrivalled entertainment, Standon Calling has over 11 years marked itself as the true epitome of what a festival is. Celebrating creativity, community and freedom – Standon Calling offers a genuine weekend escape, rich in value and one that's seen over 12,000 festival-goers return year after year – with 2017's 12th edition only set to continue that story.

Grace Jones joins a musical bill already bursting at the seam with diverse and eclectic favourites – with the return of Orbital and pop supremos Clean Bandit stepping up to headline across the weekend. With further performances from the likes of Slaves, Editors, Laura Mvula, Kate Tempest, Gary Numan, KT Tunstall, Nothing But Thieves, KT Tunstall, Steve Mason, !!! (Chk Chk Chk), British Sea Power, Slow Club and Fickle Friends amongst others, along with DJ sets from Faithless, Idris Elba, Lindstrøm, Joe Goddard and more. Providing the chance to dance into the night with an incredible array of stage takeovers from Sink The Pink, Club De Fromage and Hospitality – Standon Calling once again leads the way with an unrivalled programme of game-changing music.

Over at The Lawn, there's entertainment at every turn, lead by the incredible new comedy programme. Headlined by one of the nation's leading new comedians and TV stalwart James Acaster, Standon Calling brings a highly-anticipated hour long Edinburgh preview to the festival. With emerging star John Robins also confirmed for a set, expect to hear the belly laughs ringing from the comedy programme of stand-up and sketch performers across the weekend. Along with the gather-round thrills of the Pub Quiz, the sipping of smooth concoctions from the Cocktail Masterclasses, the unwinding Acoustic Sets or the in-depth talks – Standon Calling has it all.

Whether it's adults letting their hair down until 4am to the rings of late-night dance or dipping in the outdoor swimming pool, kids aged from toddlers to teens enjoying a daytime array of unique activities and celebrated entertainment or even dogs participating in the renowned Standon Calling Dog Show there's something unmistakably new at every corner of Standon Calling.

It's marked out by an incredible Family Programme across the weekend, lead by the renowned live spectacle of Horrible Histories The Best Of Barmy Britain coming to the Main Stage on Saturday for an unmissable guide through history. Matthew Bourne's New Adventures Reborne will bring a range of incredible dance workshops and performances to the fields, with further fun destined across the site with a family programme full of surprises and enthralling moments.

From Rockaoke to the Groove Garden, the wellness area boasting hot tubs, Yoga, meditation and more to the Real Ale Festival and the stunning array of curated street food, one-off delicacies and beyond – Standon Calling brings every turn of modern culture into one unforgettable weekend.

Unparalleled and unmissable, Standon Calling 2017 will once again open its gates for a weekend that defines the British festival experience.
ORBITAL / CLEAN BANDIT / GRACE JONES

SLAVES / EDITORS / LAURA MVULA / KATE TEMPEST / NOTHING BUT THIEVES / GARY NUMAN / KT TUNSTALL / STEVE MASON / BRITISH SEA POWER / !!! (CHK CHK CHK)

SLOW CLUB / NADIA ROSE / FICKLE FRIENDS / CABBAGE / DUTCH UNCLES / AKALA / KERO KERO BONITO / IDLES / DOC BROWN / HORSE MEAT DISCO / PLASTIC MERMAIDS / LUCY SPRAGGAN / CHARLIE CUNNINGHAM / STRONG ASIAN MOTHERS / JOHN HASSALL AND THE APRIL RAINERS / YONAKA / SKINNY LIVING / PELUCHE / THE CUBAN BROTHERS / PREP / LONGY / TANGERINES / VENN / THE EARLY YEARS / CLUB DRIVE / JAE TYLER / ALEX FRANCIS / BARON GOODLOVE & THE DREADFUL NOISE / VOLKOVA SISTERS / MADDOX / WASTE / BRING YOUR OWN BRASS / CATHERINE MCGRATH / THE WANDERING HEARTS / CRONICLE / OUTLYA / TIN PIGEONS / JOSEPHINE AND THE ARTIZANS / HATTIE WHITEHEAD / ANDY GRANT TRIO

DJ SETS FROM:
JOE GODDARD (HOT CHIP) / FAITHLESS / JAX JONES / LINDSTRØM / IDRIS ELBA / DJ YODA: STRANGER THINGS SET / MAXXI SOUNDSYSTEM / EDWARD ADOO / THE MENENDEZ BROTHERS / JIVE TALK / KALYDE / ZIG-A ZIG-AH / BEAR GROOVES / KID FIESTA

COWSHED TAKEOVERS FROM:
SINK THE PINK / HOSPITALITY / MIKE SKINNER & MURKAGE PRESENTS TONGA /
FEELING GLOOMY PRESENTS BOWIE DISCO

BRAND NEW COMEDY STAGE
JAMES ACASTER / JOHN ROBINS / CASUAL VIOLENCE
WITH MANY MORE TO BE ANNOUNCED

FAMILY PROGRAMME
HORRIBLE HISTORIES THE BEST OF BARMY BRITAIN LIVE ON THE MAIN STAGE
MATTHEW BOURNE'S NEW ADVENTURES REBORNE

FAIRYLAND TRUST / KATS WHISKERS /
STANDON CALLING CAMPFIRE (FEATURING AUTHOR READINGS) / HIP HOP ACADEMY /
WISH UPON A PARTY / ETHEREAL PRODUCTIONS / HARTBEEPS / LIBRARY / CRAFT ZONE

THE STANDON CALLING DOG SHOW / SWIMMING POOL / TALKS, DEBATES & WORKSHOPS / REAL ALE FESTIVAL / FOOD FESTIVAL / GROOVE GARDEN / DIG IT SOUNDSYSTEM / ROCKAOKE / BEEFY MELON'S TEMPLE OF LOVE & GRATITUDE / THE PEOPLE'S FRONT ROOM / LISA MARTIN SINGS ADELE (AS SEEN ON BBC ONE)

Ticket Information
Standon Calling tickets are on sale now, and are available from http://www.standon-calling.com/tickets
Super Early-Bird and Early-Bird tickets sold out in record time, with Tier 1 tickets now standing at:
Adult Weekend Tickets from £137
Teen Weekend Tickets from £97
Child Weekend Tickets from £35
Infant Weekend Tickets from £5

Camping Add-Ons
Lavish Lands Premium Camping start for £45
(Lavish Lands includes parking, extra spaced camping area close to the main festival arena, access to hot shower and upgraded toilet facilities)
Campervan Tickets start for £60
(More information on size and dimensions can be found at http://standon-calling.com)
An array of boutique camping options (including bell tents, tee-pees and more) are on sale soon

Location
Standon Calling is situated in the stunning Hertfordshire countryside – less than 45 minutes from Central London
Nearest train station is Bishop's Stortford and Ware Stations