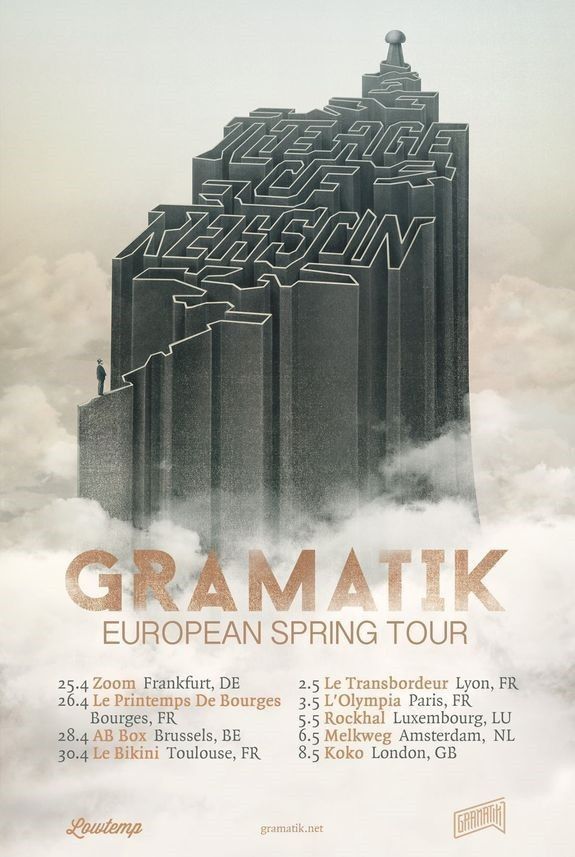 GRAMATIK HEADS TO EUROPE FOR SPRING TOUR
Through everything Slovenian born, New York based super-producer Gramatik does is a desire to break from the norm. Described as a 'groundbreaking' release that stands as 'authentic and daring' (Dancing Astronaut), his latest seminal album The Age Of Reason is a shining example of this aspiration to break the boundaries. Taking this critically acclaimed record Stateside first in March, attention then turns to Europe at the tale end of April for a 9-date run in some of the most iconic venues the continent has to offer. As inventive and original as his releases, the Gramatik live shows are a site and sound to behold with cameos from his Lowtemp troupe in full force. Grab tickets here.
Just a few months since Denis rocked Greece, Switzerland and more in a huge sell out tour he is set to do it all again bigger and better. Kicking off live proceedings in Germany, Gramatik ploughs through 6 countries in 15 days. Playing the renowned Zoom venue in Frankfurt first, his cult French following are then gifted a 4-show stint in Borges, Toulouse, Lyon, Paris and a Brussels show sandwiched in there for good measure. Jumping over to Luxemburg and Amsterdam in back-to-back dates he rounds off the Spring tour with a show in the UK, in what will be only his 3rd time to do so. After a packed-to-the-rafters Heaven last time the venue has had to be bulked up and as such Gramatik will be blowing the roof off the world-famous KOKO for the final farewell to Europe. Expect high-energy performances like you've never seen before as Gramatik blasts through genre after genre, style after style in perfectly crafted crowd-pleasing sets.
Sure to form a large part of the shows, Gramatik's The Age Of Reason lends itself to live shows as much as it does through your headphones. A personal piece for Denis, it marks the reward of a huge amount of devoted energy. More than just a record, he wanted it to be influential in the way we distribute and talk about music, promoting "fairness on all possible fronts" (Denis). Thus download giants BitTorrent were taken on board to get the music out there all for free. You can still grab it below and give it a listen via his SoundCloud:
Spring Tour Dates
25/04: Zoom, Frankfurt, Germany
26/04: Le Printemps de Bourges, Bourges, France
28/04: AB Box, Brussels, Belgium
30/04: Le Bikini, Toulouse, France
02/05: Le Transbordeur, Lyon, France
03/05: Olympia, Paris, France
05/05: Rockhal, Luxembourg, Luxembourg
06/05: Melkweg, Amsterdam, Netherlands
08/05: KOKO, London, UK